CYCLOPS (Ray Harryhausen)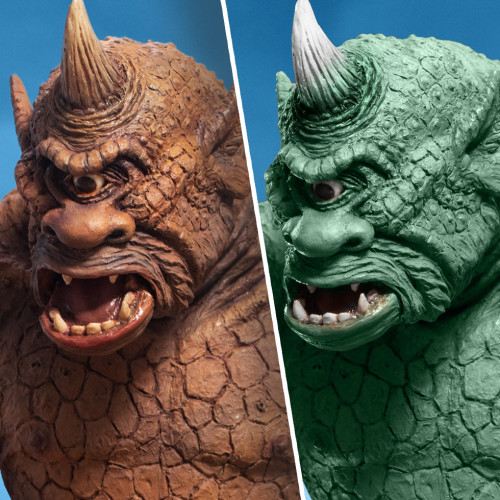 SPECIFICATION
| | |
| --- | --- |
| PRODUCT CODE | SA9020 / SA9021 / SA9020G |
| PRODUCT NAME | CYCLOPS 32cm SOFT VINYL STATUE |
| SCALE | 32CM TALL (HEIGHT) |
| SERIES | SUPERVINYL SERIES |
THE 32CM TALL CYCLOPS (RAY HARRYHAUSEN) SOFT VINYL STATUE SPECIALLY FEATURES:
SA9020 (DELUXE VERSION) / SA9021 (NORMAL VERSION) / SA9020G (SPECIAL EDITION) 32CM TALL
LICENSE (RAY HARRYHAUSEN 100TH ANNIVERSARY)

CYCLOPS
32CM SOFT VINYL STATUE (RAY HARRYHAUSEN)

Star Ace has prepared a very limited special edition of Ray Harryhausen's Cyclops, a look taken directly from a popular Japanese movie poste. In this poster the huge imposing monster is green, and this special color version of the statue is limited to only 150 pieces.

He carries his huge, spiked battle club and his single eye can be rotated. His jaw is articulated for different display options. raditionally sculpted by the artisans of the famed creature shop of Kaibutsuya, this detailed Cyclops statue is made from soft vinyl and stands 32cm tall. Each piece is hand-painted to bring out the very fine details of the sculpt.

This Deluxe version of this statue includes a display base with rocky beach terrain and has Sinbad and another sailor battling the giant monster. Due to its popularity the regular colored Deluxe Cyclops statue will also have a limited re-issue of only 300 piece.s
PRODUCT TYPE:
SOFT VINYL STATUE (NON-SCALE) 32CM TALL
PRODUCT SIZE:
CYCLOPS STAUTE : APPROXIMATELY L 300MM W 150MM H 320MM
DIORAMA BASE : APPROXIMATELY L 220MM W 180MM H 65MM
PRODUCT WEIGHT:
APPROXIMATELY 2.0 KGS (INCLUDING PACKAGE)

DIMENSION (GIFT BOX)
APPROXIMATELY W 400M X L 310MM X H 230MM (DIMENSION AND WEIGHT COULD BE CHANGED LATER)
PCS/CARTON : 4 PCS
RELEAES DATE : Q1, 2023

* SA9020G (SPECIAL VERSION) IS LIMITED FOR 150 PCS.
**PROTOTYPE SHOWN, FINAL PRODUCT MAY BE SLIGHTLY DIFFERENT
**PRODUCT DETAILS COULD BE SUBJECTED TO CHANGE WITHOUT FURTHER NOTICE
Produced with the permission of The Ray and Diana Harryhausen Foundation (Charity Number SC001419). ALL RIGHTS RESERVED.

© 2022 Star Ace Toys Limited. All Rights Reserved.