YMIR (Model Kit)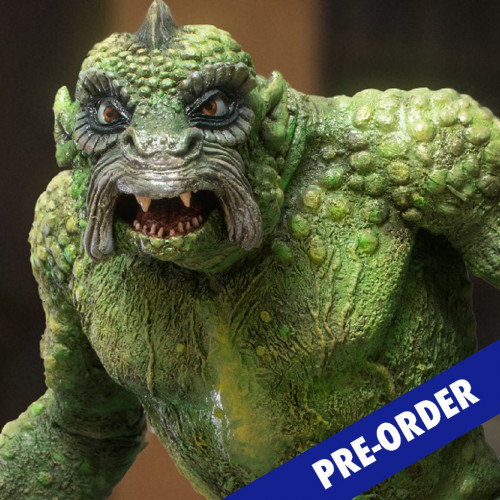 SPECIFICATION
| | |
| --- | --- |
| PRODUCT CODE | SA9022M |
| PRODUCT NAME | YMIR VINYL MODEL KIT |
| SCALE | 30CM SERIES |
| SERIES | SUPERVINYL SERIES |
THE 30CM SERIES YMIR VINLY MODEL KIT SPECIALLY FEATURES:
SA9022M
LICENSE (RAY HARRYHAUSEN 100TH ANNIVERSARY)

YMIR
30CM SERIES SOFT VINYL MODEL KIT

The Star Ace Vinyl Model series has begun at last! In his honor Star Ace is proud to release the Ymir, the creature that came a long way to Earth. This uniquely designed monster has a forked tail, scaly skin and is ready to attack.

This soft vinyl model kit stands 32 cm tall and is sculpted to exactly recreate the original Harryhausen stop-motion model, and his eyes can roll, and his jaw moves up and down.

This model kit will be limited edition on 400 pcs. Shipping in July 2022, this is the YMIR you've been waiting for!.
PRODUCT TYPE:
SOFT VINYL MODEL KIT (NON-SCALE) 30CM SERIES
PRODUCT SIZE:
YMIR STAUTE (AFTER ASSEMBLED) : APPROXIMATELY L 300MM W 150MM H 260MM
PRODUCT WEIGHT:
APPROXIMATELY 1.2 KGS (INCLUDING PACKAGE)

DIMENSION (GIFT BOX)
APPROXIMATELY W 360M X L 230MM X H 100MM (DIMENSION AND WEIGHT COULD BE CHANGED LATER)
PCS/CARTON : 12 PCS
RELEAES DATE : Q3, 2022

**PROTOTYPE SHOWN, FINAL PRODUCT MAY BE SLIGHTLY DIFFERENT
**PRODUCT DETAILS COULD BE SUBJECTED TO CHANGE WITHOUT FURTHER NOTICE
Produced with the permission of The Ray and Diana Harryhausen Foundation (Charity Number SC001419). ALL RIGHTS RESERVED.

© 2022 Star Ace Toys Limited. All Rights Reserved.