Tyrannosaurus Rex (T-Rex) & Fossil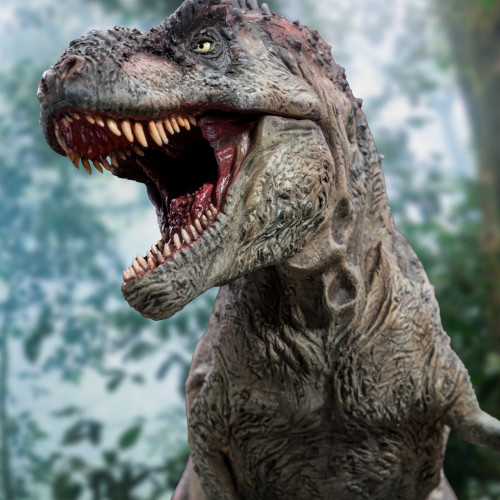 SPECIFICATION
| | |
| --- | --- |
| PRODUCT CODE | SA5014/SA5015/SA5016 |
| PRODUCT NAME | TYRANNOSAURUS REX & FOSSIL POLYRESIN STATUE |
| SCALE | 37CM LONG |
| SERIES | WONDERS OF THE WILD SERIES |
THE 37CM LONG TYRANNOSAURUS REX (T-REX) & FOSSIL REPLICA (SCULPTED BY SEAN COPPER) POLYRESIN STATUE SPECIALLY FEATURES:
SA5014 / SA5015 / SA5016 T-REX STATUE / DELUXE VERSION / FOSSIL REPLICA 37CM LONG


SCULPTOR : SEAN COPPER

PAINTER : KAIBUTSUYA 怪物屋 & YOSHIO MASATAKA

TYRANNOSAURUS (T-REX) & FOSSIL
37CM POLYRESIN STATUE (PRE-HISTORIC CREATURES)

The king of the dinosaurs, the Tyrannosaurus Rex is the next release from Star Ace in the "Wonders of the Wild" series. Living in the late Cretaceous period (66-68 million years ago) and often growing larger than 12 meters long, the Tyrannosaurus is the most fearsome creature that ever lived. With 60 teeth in their powerful jaws the T-Rex could crush the bones of its prey.

Famed dinosaur sculptor Sean Cooper has sculpted this great beast based on the latest scientific evidence. This polyresin statue is 37cm long and features an environmental diorama base representing its natural habitat with a name plate identifying the scientific name and location.

The Deluxe set includes a sculpted replica of the fossil as it was found by paleontologists. The fossil replica is also available separately.
PRODUCT TYPE:
POLYRESIN STATUE (NON-SCALE) 37CM LONG / FOSSIL REPLICA : WALL HANGING OR TABLE TOP DISPLAY.
PRODUCT SIZE:
T-REX STATUE : APPROXIMATELY L 370MM W 120MM H 210MM / FOSSIL REPLICA : APPROMIXATELY L 450MM W 210MM D 40MM
PRODUCT WEIGHT:
APPROXIMATELY 2.50 KGS (DELUXE VER.) / 2.40 KGS (FOSSIL REPLICAS) (INCLUDING PACKAGE)

DIMENSION (GIFT BOX)
APPROXIMATELY W 500M X L 260MM X H 210MM (DIMENSION AND WEIGHT COULD BE CHANGED LATER)


PCS/CARTON : 4 PCS (OUTER)
RELEAES DATE : Q1, 2023
** SPECIAL EFFECT BACKBOARD WILL BE INCLUDED FOR PRE-ORDER BONUS
**PROTOTYPE SHOWN, FINAL PRODUCT MAY BE SLIGHTLY DIFFERENT
**PRODUCT DETAILS COULD BE SUBJECTED TO CHANGE WITHOUT FURTHER NOTICE

© 2022 Star Ace Toys Limited. All Rights Reserved.