JAMES DEAN 1:4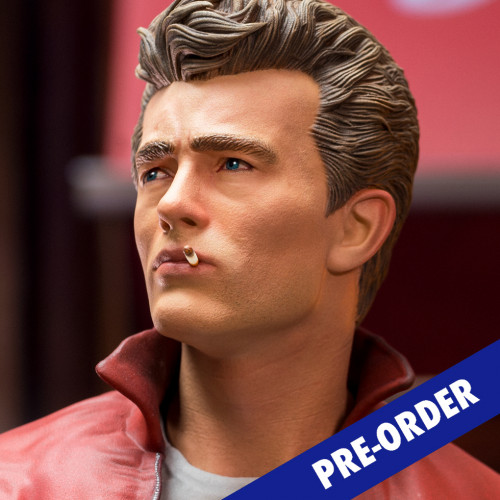 SPECIFICATION
| | |
| --- | --- |
| PRODUCT CODE | SA4007 / SA4008 |
| PRODUCT NAME | JAMES DEAN 1/4 POLYRESIN STATUE |
| SCALE | 1/4 SCALE (APPROX. 52CM HEIGHT) |
| SERIES | MY ART GALLERY SERIES |
THE 1/4TH SCALE JAMES DEAN COLLECTIBLE POLYRESIN STATUE SPECIALLY FEATURES:
SA4007 JAMES DEAN 1/4 SCALE
LICENSE (JAMES DEAN)

1/4 MIXED MEDIA POLYRESIN STATUE

The next Superb ¼ scale statue in the My Favourite Legend series is the brilliant actor, James Dean in his iconic red jacket.

James Dean was an actor ahead of his time and his tragic death at age 24 cemented his reputation as a true Hollywood legend. He only made a handful of films, but in every one he stood out as one of the best performers of his generation.

Star Ace brings James Dean to life in this ¼ scale polyresin statue which includes a diorama base placing the teenaged "rebel" standing on a street corner, smoking a cigarette. This statue features a detailed and accurate likeness of the actor and depicts him in the memorable outfit of red jacket, white t-shirt, jeans, and black boots.

The deluxe version of this statue includes an addition to the diorama base - a light-up streetlamp modeled on the lamps seen in Los Angeles in the 1950s.
PRODUCT NO.:
SA4007 (DELUXE VERSION) / SA4008 (NORMAL VERSION)
PRODUCT TYPE:
SUPERB SCALE STTAUE, (1/4 SCALE) MIXED MEDIA MATERIALS
PRODUCT SIZE:
STAUTE : APPROXIMATELY H 525MM W 220 MM
DIORAMA BASE : APPROXIMATELY H 80MM W 240MM
PRODUCT WEIGHT:
APPROXIMATELY 10 KGS (INCLUDING PACKAGE)

DIMENSION (SHIPPING BOX)
APPROXIMATELY W 400MM X L 610MM X H 360MM (DIMENSION AND WEIGHT COULD BE CHANGED LATER)
RELEAES DATE : LATE Q3, 2022

SA4007 DELUXE VERSION IS A LIMITED EDITION OF 400PCS WORLDWIDE
**PROTOTYPE SHOWN, FINAL PRODUCT MAY BE SLIGHTLY DIFFERENT
**PRODUCT DETAILS COULD BE SUBJECTED TO CHANGE WITHOUT FURTHER NOTICE
JAMES DEAN TM & IS A TRADEMARK OF JAMES DEAN INC. www.JamesDean.com. ALL RIGHTS RESERVED.

© 2022 Star Ace Toys Limited. All Rights Reserved.