Concavenator & Fossil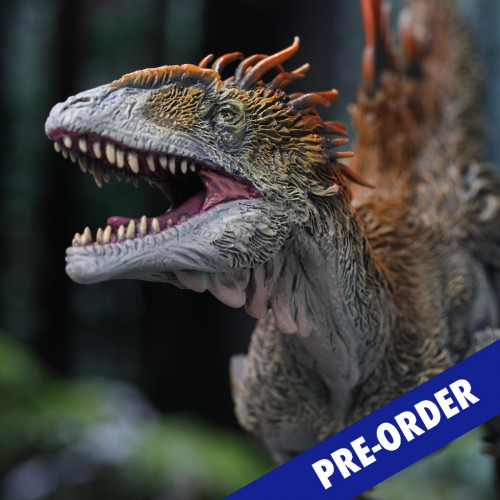 SPECIFICATION
PRODUCT CODE

SA5002 / SA5003 / SA5004

PRODUCT NAME

SA5002 - CONCAVENATOR STATUE

SA5003 - CONCAVENATOR (DELUXE VERSION)

SA5004 - FOSSIL REPLICA

SCALE
32CM LONG SERIES
SERIES
WONDERS OF THE WILD SERIES
THE 32CM LONG CONCAVENATOR & FOSSIL REPLICA (SCULPTED BY SEAN COOPER) POLYRESIN STATUE SPECIALLY FEATURES:
SA5002 / SA5003 / SA5004 CONCAVENATOR STATUE / DULUXE VERSION / FOSSIL REPLICA 32CM LONG


SCULPTOR : SEAN COOPER

PAINTER : KAIBUTSUYA 怪物屋

CONCAVENATOR & FOSSIL
32CM POLYRESIN STATUE (PRE-HISTORIC CREATURES)

Star Ace is proud to debut a new collection in collaboration with X-Plus –the Wonders of the Wild series, featuring real ancient animals. Sculpted by renowned animal sculptor, Sean Cooper, these polyresin statues feature prehistoric creatures on an environment base with a name plate identifying their scientific name and habitat.

The Concavenator or Concaventor corcovatus was recently discovered in Europe and is the most complete fossil of a mid-size theropod ever found. This 6-meter-long carnivore is the only known dinosaur to have a hump, and there is evidence that it had feathers.

This polyresin statue of the Concavenator is 32 cm long and 25 cm tall. It has been sculpted by Sean Cooper, who is known for his ultra-realistic depictions of extinct animals, and it has been painted by the Japanese artisans at X-Plus.

The base of the statue features the Concavenator's natural forest habitat.

The Deluxe set also includes a Concavenator Fossil Replica is sculpted by Star Ace designer team. This replica features the dinosaur as first discovered and makes an excellent companion piece to the dynamic statue. It can be displayed with or without its magnetically attachable name plate. The Fossil Replica measures 31cm by 19cm and can be hung on a wall or sitting on a tabletop or shelf. The statue and Fossil Replica also available separately.
PRODUCT TYPE:
POLYRESIN STATUE (NON-SCALE) 32CM LONG / FOSSIL REPLICA : WALL HANGING OR TABLE TOP DISPLAY.
PRODUCT SIZE:
STATUE : APPROXIMATELY L 320MM W 130MM H 250MM / FOSSIL REPLICA : APPROMIXATELY L 310MM W 190MM D 30MM
PRODUCT WEIGHT:
APPROXIMATELY 3.0 KGS (INCLUDING PACKAGE)

DIMENSION (GIFT BOX)
APPROXIMATELY W 350M X L 260MM X H 250MM (DIMENSION AND WEIGHT COULD BE CHANGED LATER)


PCS/CARTON : 2 PCS (INNER) / 4 PCS (OUTER)
RELEAES DATE : LATE Q1, 2022
**PROTOTYPE SHOWN, FINAL PRODUCT MAY BE SLIGHTLY DIFFERENT
**PRODUCT DETAILS COULD BE SUBJECTED TO CHANGE WITHOUT FURTHER NOTICE

© 2021 Star Ace Toys Limited. All Rights Reserved.