HARRY POTTER (TRI-WIZARD TOURAMENT )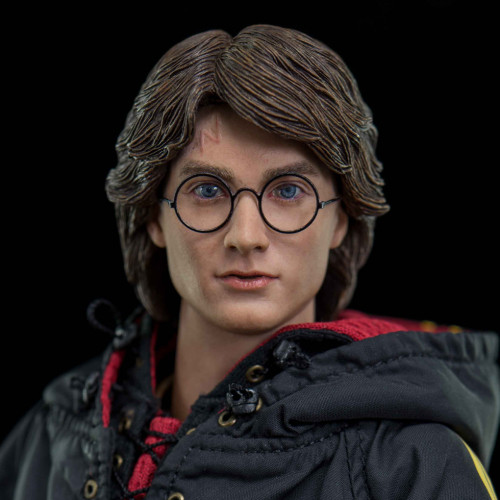 SPECIFICATION
| | |
| --- | --- |
| PRODUCT CODE | SA0008 |
| PRODUCT NAME | HARRY POTTER (TRI-WIZARD) |
| SCALE | 1/6 SCALE (APPROX. 30CM HEIGHT) |
| SERIES | MY FAVOURITE MOVIE SERIES |
The 1/6th scale Harry Potter (Tri-wizard Tournament version) collectible figure features:
-1/6th scale body, approximately 29 cm tall with 30 points of articulation
-Fully realized authentic likeness of Harry Potter in the movie "Harry Potter and the Goblet of Fire" with accurate facial expression and detailed skin texture.
-Each head sculpt is specially hand-painted.
PARTS
Interchangeable half-glove hands including:
-one pair of open hands
-one right hand for holding his wand
-one pair of hands for holding his broomstick
COSTUME
-Gryffindor black & red long-sleeve shirt
-Gryffindor black trousers with stripe
-Gryffindor black sweatshirt with hood
-Gryffindor Black Triwizard robes
-Black socks
-Black shoes
ACCESSORIES
-The Golden Egg
-The Triwizard Cup
-Firebolt broomstick
- LED Light up stand to illuminate the Golden Egg or Triwizard Cup.
-Harry's wand
FIGURE STAND
RELEASE DATE: Q4, 2015
**PROTOTYPE SHOWN, FINAL PRODUCT MAY BE SLIGHTLY DIFFERENT
**PRODUCT DETAILS COULD BE SUBJECTED TO CHANGE WITHOUT FURTHER NOTICE
TM & © Warner Bros. Entertainment Inc. (s15)
© 2015 Star Ace Toys Limited. All Rights Reserved.