GRIPHOOK 1.0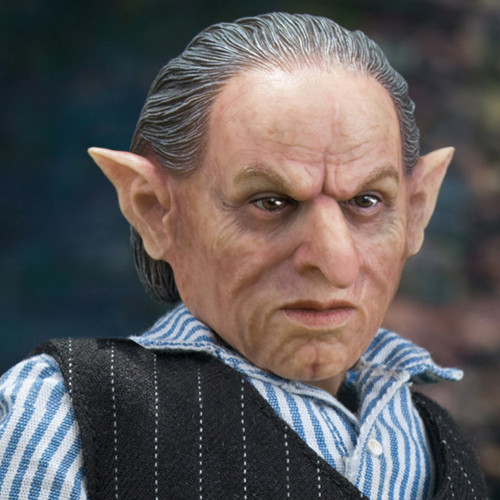 SPECIFICATION
Special products
- Delivery method : Registered air mail / EMS(+US$60)
- Product non-refundable
| | |
| --- | --- |
| PRODUCT CODE | SA0058 |
| PRODUCT NAME | GRIPHOOK |
| SCALE | 1/6 SCALE (APPROX. 20CM HEIGHT) |
| SERIES | MY FAVOURITE MOVIE SERIES |
THE 1/6TH SCALE GRIPHOOK COLLECTIBLE FIGURE FEATURES:
- 1/6TH SCALE BODY APPROXIMATELY 20 CM TALL
- OVER 24 POINTS ARTICULATIONS
- FULLY REALIZED AUTHENTIC LIKENESS OF WARWICK DAVIS AS GRIPHOOK IN THE MOVIE "HARRY POTTER AND THE DEATHLY HALLOWS, PART 2"
- WITH ACCURATE FACIAL EXPRESSION AND DETAILED SKIN TEXTURE
- EACH HEAD SCULPT IS SPECIALLY HAND-PAINTED
PARTS:
1. THREE (3) SETS OF INTERCHANGEABLE HANDS INCLUDING:
- ONE (1) PAIR OF OPEN HANDS
- ONE (1) RIGHT HAND FOR HOLDING SWORD, HELGA HUFFLEPUFF'S CUP AND THE CLANKER
2. COSTUME:
- ONE (1) STRIPED SHIRT
- ONE (1) STRIPED BLACK TROUSERS
- ONE (1) STRIPED BLACK VEST
- ONE (1) BLACK SOCKS
- ONE (1) PAIR OF BLACK SHOES
3. ACCESSORIES:
- ONE (1) THE SWORD OF GODRIC GRYFFINDOR
- ONE (1) HELGA HUFFLEPUFF'S CUP
- ONE (1) GRINGOTT'S BANK CLANKER
RELEASE DATE: Q4, 2018
**PROTOTYPE SHOWN, FINAL PRODUCT MAY BE SLIGHTLY DIFFERENT
**PRODUCT DETAILS COULD BE SUBJECTED TO CHANGE WITHOUT FURTHER NOTICE
© 2018 Star Ace Toys Limited. All Rights Reserved.(s18)
© Warner Bros. Entertainment Inc. Harry Potter Publishing Rights ©JKR.