COUNT DRACULA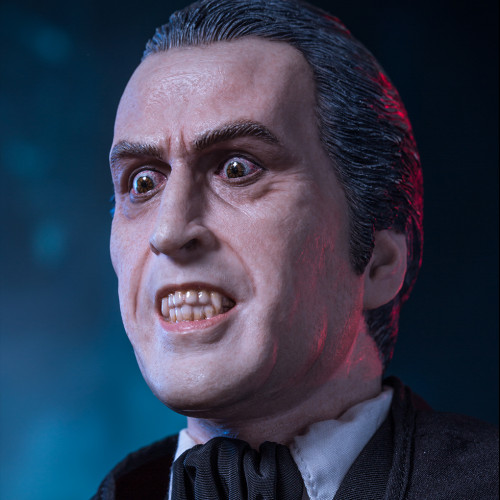 SPECIFICATION
| | |
| --- | --- |
| PRODUCT CODE | SA4001 |
| PRODUCT NAME | COUNT DRACULA 1/4 POLYRESIN STATUE |
| SCALE | 1/4 SCALE (APPROX. 4CM HEIGHT) |
| SERIES | MY ART GALLERY SERIES |
THE 1/4TH SCALE COUNT DRACULA (CHRISTOPHER LEE) COLLECTIBLE POLYRESIN STATUE SPECIALLY FEATURES:
SA4001 COUNT DRACULA 1/4
LICENSE (SCARS OF DRACULA, 1970)

CHRISTOPHER LEE AS COUNT DRACULA
1/4 MIXED MEDIA POLYRESIN STATUE (SCARS OF DRACULA, 1970)

Christopher Lee as Dracula will be the debut figure for Star Ace Toys new line of 1/4 scale mixed media polyresin statues. Featuring Mr. Lee as he appeared in the 1970 film "Scars of Dracula," this figure captures the beloved movie icon in his most notable role.

The artist on this project said that Christopher Lee is the symbol of Dracula for all time. Lee fixed the image of the fanged vampire in popular culture.

Now, you can feel the fear of Count Dracula with this large-scale statue. The detailed diorama base depicts the castle where Dracula lived and has recreated the look of the scene from the film "Scars of Dracula." The fabric costume with swirling cape perfectly captures Dracula's formal wear as Christopher Lee wore it in the film.
PRODUCT TYPE:
SUPERB SCALE STTAUE, (1/4 SCALE) MIXED MEDIA WITH COSTUME
PRODUCT SIZE:
STAUTE : APPROXIMATELY H 525MM W 220 MM
DIORAMA BASE : APPROXIMATELY H 80MM W 240MM
PRODUCT WEIGHT:
APPROXIMATELY 11 KGS (INCLUDING PACKAGE)

DIMENSION (SHIPPING BOX)
APPROXIMATELY W 400MM X L 610MM X H 360MM (DIMENSION AND WEIGHT COULD BE CHANGED LATER)
RELEAES DATE : MAY, 2018

LIMITED EDITION
**PROTOTYPE SHOWN, FINAL PRODUCT MAY BE SLIGHTLY DIFFERENT
**PRODUCT DETAILS COULD BE SUBJECTED TO CHANGE WITHOUT FURTHER NOTICE
THE SCARS OF DRACULA TM & © 2018 STUDIOCANAL S.A. ALL RIGHTS RESERVED.

© 2018 Star Ace Toys Limited. All Rights Reserved.