DF PENNYWISE 1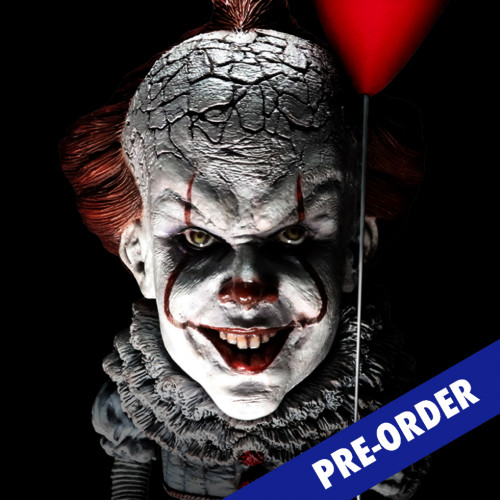 SPECIFICATION
| | |
| --- | --- |
| PRODUCT CODE | SA6004 |
| PRODUCT NAME | DF PENNYWISE 1 (NX) |
| SCALE | 15M TALL (HEIGHT) |
| SERIES | DEFO-REAL SERIES |
** ONLINE GIFT = BOAT FOR ALL ONLINE CUSTOMERS ONLY ***

THE 15CM TALL PENNYWISE 1 (IT (2017) SOFT VINYL STATUE SPECIALLY FEATURES:

SA6004 DF PENNYWISE 1 (NX) 15CM TALL
LICENSE (IT : 2017)

PENNYWISE 1 (NX)
15CM SOFT VINYL STATUE (IT : 2017)


Star Ace is proud to introduce a new series of collectibles – the Defo-Real Series (DF). Standing 15-25 cm tall, these soft vinyl statues feature accurately sculpted, oversized heads on realistic bodies in dynamic poses. Characters from modern horror movies are particularly suited to being represented in this format and Star Ace looks forward to bringing you your favorites.
The DF Pennywise is about 15cm (6 inches) tall and comes with in 3 different versions.
- The Normal version is the standard smiling expression with him holiding a red balloon.
- The Scary version (Pennywise 2) has his head transformed into a huge gaping mouth full of teeth.
- The Scary with Light version (Pennywise 2) has a light coming out of his high gaping teeth-filled mouth, This is operated by AAA x 2pcs battery (with battery compartment), battery is not included.
PRODUCT TYPE:

SOFT VINYL STATUE (NON-SCALE) 15CM TALL
PRODUCT SIZE:
STAUTE : APPROXIMATELY L 80MM W 95MM H 145MM

PRODUCT WEIGHT:
APPROXIMATELY 0.5 KGS (INCLUDING PACKAGE)

DIMENSION (GIFT BOX)
APPROXIMATELY W 210MM X L 170MM X H 170MM (DIMENSION AND WEIGHT COULD BE CHANGED LATER)
PCS/CARTON : 6 PCS (INNER) / 12 PCS (OUTER)
RELEAES DATE : Q2, 2019

**PROTOTYPE SHOWN, FINAL PRODUCT MAY BE SLIGHTLY DIFFERENT
**PRODUCT DETAILS COULD BE SUBJECTED TO CHANGE WITHOUT FURTHER NOTICE

© 2019 Star Ace Toys Limited. All Rights Reserved.