AUDREY HEPBURN 1/4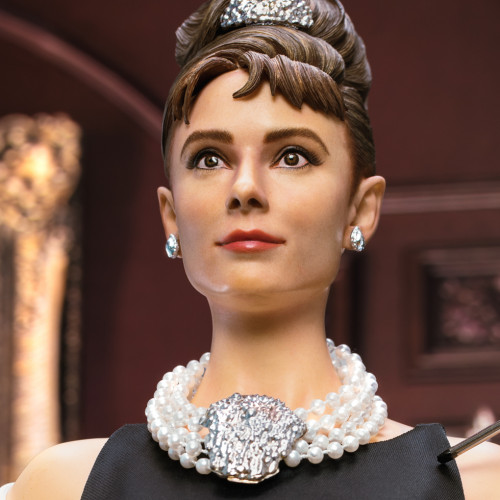 SPECIFICATION
| | |
| --- | --- |
| PRODUCT CODE | SA4003 / SA4004 |
| PRODUCT NAME | AUDREY HEPBURN 1/4 (DX / NX) POLYRESIN STATUE |
| SCALE | 1/4 SCALE (APPROX. 4CM HEIGHT) |
| SERIES | MY ART GALLERY SERIES |
THE 1/4TH SCALE AUDREY HEPBURN as HOLLY GOLIGHTLY COLLECTIBLE POLYRESIN STATUE SPECIALLY FEATURES:
SA4003 (DX) / SA4004 (NX) AUDREY HEPBURN 1/4
LICENSE (BREATKFAST AT TIFFANY, 1961)

AUDREY HEPBURN AS HOLLY GOLIGHTLY
1/4 MIXED MEDIA POLYRESIN STATUE (BREAKFAST AT TIFFANY, 1961)

Star Ace is proud to present the next Superb Scale ¼ scale figure in our Favourite Legend Series – Audrey Hepburn from the classic film Breakfast at Tiffany's..

Already a movie star when she made Breakfast at Tiffany's, this movie solidified Audrey Hepburn's standing as the epitome of style and grace and earned her the status of true Hollywood Legend. She has become identified with the character of Holly Golightly, the Manhattan sophisticate that is really just a small town girl trying to make it in the big city. This art gallery figure shows Holly as she appeared in the opening scene of the movie, eating a croissant while gazing in the window at Tiffany's, her black dress and pearls still perfectly in place after a night on the town.

Her dress and stole are real fabric for that realistic look and feel that can't be faked in this scale. The jewelry are separate pieces and designed to look exactly like the full-scale real thing. She measures 52 cm tall and stands on a base with a metallic nameplate and featuring a bas-relief of the New York City skyline.

This is a limited edition of only 500pcs and comes with a Certificate of Authenticity.

The deluxe version (SA4003) of the statue has a light-up base allowing a choice between 4 different colors.
PRODUCT TYPE:
SUPERB SCALE STTAUE, (1/4 SCALE) MIXED MEDIA WITH COSTUME
PRODUCT SIZE:
STAUTE : APPROXIMATELY H 525MM W 220 MM
DIORAMA BASE : APPROXIMATELY H 80MM W 240MM
PRODUCT WEIGHT:
APPROXIMATELY 11 KGS (INCLUDING PACKAGE)

DIMENSION (SHIPPING BOX)
APPROXIMATELY W 400MM X L 610MM X H 360MM (DIMENSION AND WEIGHT COULD BE CHANGED LATER)
RELEAES DATE : Q1, 2020

LIMITED EDITION
**PROTOTYPE SHOWN, FINAL PRODUCT MAY BE SLIGHTLY DIFFERENT
**PRODUCT DETAILS COULD BE SUBJECTED TO CHANGE WITHOUT FURTHER NOTICE
Breakfast At Tiffany TM & © 2019 Paramount Pictures. All Rights Reserved. Audrey Hepburn TM - Trademark © 2018 and Likeness - Property of Sean Hepburnand Luca Dotti - All Rights Reserved.

© 2019 Star Ace Toys Limited. All Rights Reserved.