DF BUCK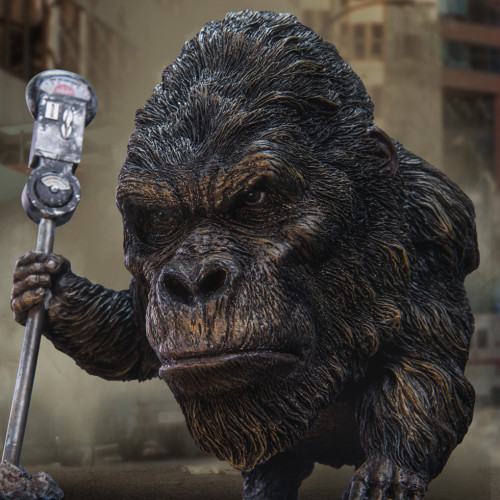 SPECIFICATION
Special products
- Delivery method : Registered air mail / EMS(+US$60)
- Product non-refundable
| | |
| --- | --- |
| PRODUCT CODE | SA6048 - SA6049 |
| PRODUCT NAME | DF BUCK (NX) / (TWIN PACK) |
| SCALE | 15CM TALL (HEIGHT) |
| SERIES | DEFO-REAL SERIES |
THE 15CM TALL DF BUCK (NX / TWIN) STATUE SPECIALLY FEATURES:
SA6048 / SA6049 DF BUCK (NORMAL VER.) / (TWIN VER.)
LICENSE (RISE OF THE PLANET OF THE APES, 2011)

BUCK (NORMAL VER.) / (TWIN PACK VER.)
15CM STATUE (RISE OF THE PLANET OF THE APES, 2011)

The Planet of the Apes Defo Real figure line continues with Caesar's devoted friend and protector, the gorilla Buck from Rise of the Planet of the Apes. Buck and Maurice fought the cops in the streets of San Francisco – Buck using a ripped-up parking meter to stop a police car.

This figure stands approximately 14cm tall and is meticulously hand sculpted in intricate detail, then painted by artisans to re-create the character as seen on screen, but in the distinct Defo Real style. Buck is available as a stand-alone figure or in a 2-pack with the DF Maurice the Orangutan.
PRODUCT NO:
SA6048 DF BUCK (NORMAL VER.) / SA6049 DF MAURICE (TWIN PACK VERSION)
PRODUCT TYPE:
NON-ARTICULATED STATUE (NON-SCALE) 15CM TALL
PRODUCT SIZE:
STAUTE : APPROXIMATELY L 100MM W 95MM H 140MM
PRODUCT WEIGHT:
APPROXIMATELY 1.5 KGS (INCLUDING PACKAGE) / TWIN PACK VERSION : X 2

DIMENSION (GIFT BOX)
APPROXIMATELY W 210M X L 170MM X H 140MM (DIMENSION AND WEIGHT COULD BE CHANGED LATER)
PCS/CARTON : 4 PCS (INNER) / 8 PCS (OUTER)
RELEAES DATE : Q1, 2022
**PROTOTYPE SHOWN, FINAL PRODUCT MAY BE SLIGHTLY DIFFERENT
**PRODUCT DETAILS COULD BE SUBJECTED TO CHANGE WITHOUT FURTHER NOTICE
© 2021 Twentieth Century Fox Film Corporation. All Rights Reserved.

© 2021 Star Ace Toys Limited. All Rights Reserved.