GODZILLA 1995 (HK Landing)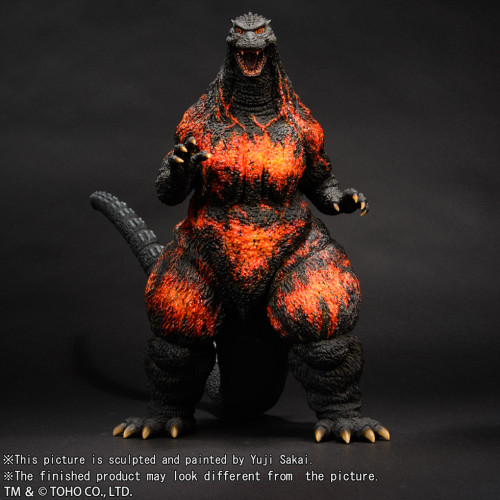 SPECIFICATION
| | |
| --- | --- |
| PRODUCT CODE | Sakai Godzilla 1995 |
| PRODUCT NAME | Sakai Godzilla 1995 |
| SCALE | 30CM TALL (HEIGHT) |
| SERIES | Yuji Sakai Modeling Collection |
THE 30CM TALL SAKAI GODZILLA 1995, SOFT VINYL STATUE SPECIALLY FEATURES:

GODZILLA 1995, 30CM TALL
LICENSE : TOHO CO., LTD.

GODZILLA 1995
30CM SOFT VINYL STATUE


Presenting the Godzilla (1995) from Godzilla vs. Destoroyah from the Yuji Sakai Modelingcollection, a soft vinyl series produced using molds made and supervised by Yuji Sakai himself!This series takes inspiration from the scene of Godzilla landing in Hong Kong with its entire bodyburning red at the start of the film and the model itself packs a serious punch and gives off anoverwhelming sense of presence as it tramples through the streets of Hong Kong at night. With theend of the Heisei period in Japan, this "Death Godzilla" which was the final Godzilla in the HeiseiVS series has made its way to the Yuji Sakai Modeling collection line-up. Experience thisbeautiful model yourself only made possible thanks to Mr. Sakai who was involved in the makingof the original Godzilla vs. Destoroyah film as part of the modeling team. Don't pass up this awesome opportunity!
PRODUCT TYPE:

PVC STATUE (COMPLETE PAINTED FIGURE) 30CM TALL

PCS/CARTON : 4 PCS (OUTER)
RELEAES DATE : AUG, 2019

**PROTOTYPE SHOWN, FINAL PRODUCT MAY BE SLIGHTLY DIFFERENT
**PRODUCT DETAILS COULD BE SUBJECTED TO CHANGE WITHOUT FURTHER NOTICE

© 2019 X-PLUS COMPANY LIMITED. All Rights Reserved.