KONG 2.0 (SKULL ISLAND)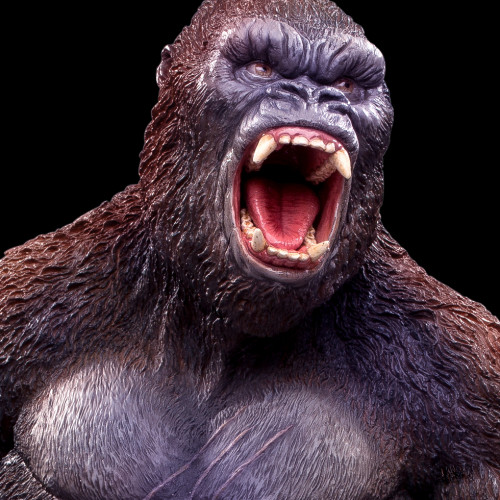 Product Specification
| | |
| --- | --- |
| Product code | SA9005 Kong 2.0 (DX) / SA9006 Kong 2.0 (NX) |
| Product Name | Kong 2.0 (32cm Statue) |
| Scale | 32cm Statue |
| Series | SuperVinyl Series |

SA9005 (DX) / SA9006 (NX) Kong 2.0 32cm Soft Vinyl Statue
License (Kong : Skull Island, 2017)
"All hail the King."
Kong: Skull Island introduced us to the Monsterverse that will soon see the king of all monsters, Godzilla, take on the king of Skull Island – Kong. This new 32cm vinyl figure shows the protector of Skull Island in a defiant roar, mouth open wide and arms outstretched. This piece is meticulously sculpted to show the rage in his face, all the detail of his hair and the battle scars across his chest. He is painted by hand to bring out all the incredible nuances of his expression and recreate the realism that makes the figure look alive.
A limited-edition Deluxe Version recreates a famous scene in the movie where Kong swings a ship's propeller on a chain at an attacking monster. The Deluxe Version features a diorama base with the remnants of a ship, and Kong has a chain around his arm and is holding a ship's propeller, getting ready to heave it at the Skullcrawler.
Shipping in Dec 2019, this is the new Kong you've been waiting for!
Product No. : SA9005 (DX), (with Diorama & Propeller) /
SA9006 (NX), (no diorama or Propeller)


Product Type :
Soft Vinyl Statue, (non scale) 32cm tall


Product Size :
Statue : Approximately L 350mm W 150mm H 320mm
Diorama Base : Approximately L 200mm W 200mm H 95mm


Product Weight :
Approximately 2.5 Kg (including Package)


Dimension (Shipping Box) :
SA9005 (DX) : App. 350H x 260W x 180D mm
SA9006 (NX) : App. 430H x 260W x 220D mm
(Dimension and weight could change later.)


Pcs / carton : 6 pcs (Inner) / 12pcs (outer)
Packing : Closed Box
Release : DEC 2019


EAN Code : SA9005 (DX) 4 89705 788 905 6
SA9006 (NX) 4 89705 788 906 3
** SA9005 DX is Limited Edition

KONG:SKULL ISLAND and all related characters and element & © Warner Bros. Entertainment, Inc. WB SHIELD: TM & © WBEI. (s19). ALL RIGHTS RESERVED.

© 2019 Star Ace Toys Limited. All Rights Reserved.