LYCAN (UNDERWORLD)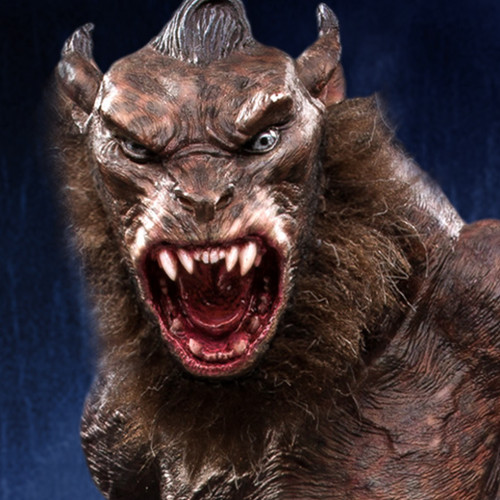 Product Specification
| | |
| --- | --- |
| Product code | SA9003 Lycan (DX) / SA9004 (NX) |
| Product Name | Lycan (32cm Statue) |
| Scale | 32cm Statue |
| Series | SuperVinyl Series |

SA9003 (DX) / SA9004 (NX) Lycan 32cm Soft Vinyl Statue
License (Underworld Evolution, 2006)
In the "Underworld" movie series a war rages in the darkness where humans cannot go. The vampires battle the werewolves or Lycans in a centuries-old war. The Lycans can transform from human to a fierce snarling beast, but still retain their human reasoning. This 32cm tall vinyl figure represents a Lycan ready to go into battle, his mouth wide open showing his sharp teeth and his claws out, ready to rip apart his vampire foe. This figure features synthetic hair attached to the head sculpt to better represent the look of the Lycan.
The Deluxe version (SA9003) features a display base with a remnants of a building and spent shells from the ultraviolet ammunition used to kill vampires.
Shipping in Jan 2020, this is the new Lycan you've been waiting for!
Product No. : SA9003 (DX), (with Diorama) /
SA9004 (NX), (no diorama)


Product Type :
Soft Vinyl Statue, (non scale) 32cm tall


Product Size :
Statue : Approximately L 350mm W 150mm H 320mm
Diorama Base : Approximately L 200mm W 200mm H 95mm


Product Weight :
Approximately 2.5 Kg (including Package)


Dimension (Shipping Box) :
SA9005 (DX) : App. 350H x 260W x 180D mm
SA9006 (NX) : App. 430H x 260W x 220D mm
(Dimension and weight could change later.)


Pcs / carton : 6 pcs (Inner) / 12pcs (outer)
Packing : Closed Box
Release : JAN 2020


EAN Code : SA9003 (DX) 4 89705 788 903 2
SA9004 (NX) 4 89705 788 904 9
** SA9005 DX is Limited Edition

TM & © Screen Gems Inc.. ALL RIGHTS RESERVED.

© 2019 Star Ace Toys Limited. All Rights Reserved.