MARCUS (UNDERWORLD)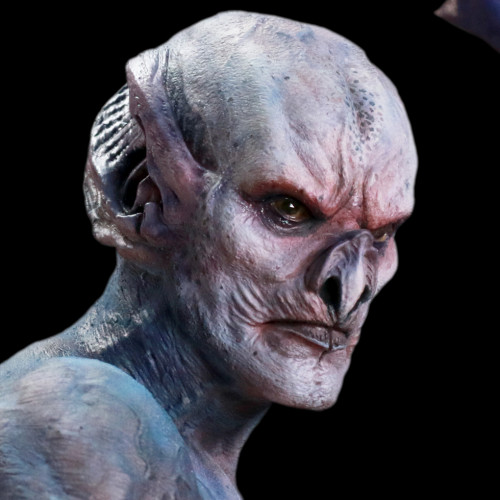 Product Specification
Special products
- Delivery method : Registered air mail / EMS(+US$60)
- Product non-refundable
| | |
| --- | --- |
| Product code | SA9007 (DX) / SA9008 (NX) |
| Product Name | Marcus (32cm Statue) |
| Scale | 32cm Statue |
| Series | SuperVinyl Series |

SA9007 (DX) / SA9008 (NX) Marcus 32cm Soft Vinyl Statue
License (Underworld Evolution, 2006)
Marcus, he's the one. The source. The first true Vampire.
Marcus Corvinus and his brother were attacked by monsters and became the first vampire and werewolf. Entombed by the other vampire elders, Marcus was resurrected by the blood of a Lycan/Vampire hybrid and rose to become the most powerful supernatural creature in the world.
Star Ace's 32cm soft vinyl statue of Marcus fits in with the 1:6th scale figures from Underworld: Evolution. This non-articulated statue features a real fabric skirt and an extremely detailed sculpt showing the supernatural power of the character. Two wing talons protrude from his back that he uses to skewer his enemies. Or the statue can be displayed with the talons retracted with special inserts for his back. The statue is hand-painted with exceeding skill bringing out the nuances of his bat-like features。
The deluxe package (SA9007 (DX)) comes with an environmental base showing the beautifully detailed floor of the vampire elder's chamber.
Shipping in Q2, 2020, this is the Marcus you've been waiting for!
Product No. : SA9007 (DX), (with Diorama) /
SA9008 (NX), (no diorama)


Product Type :
Soft Vinyl Statue, (non scale) 32cm tall


Product Size :
Statue : Approximately L 350mm W 150mm H 320mm
Diorama Base : Approximately L 200mm W 200mm H 95mm


Product Weight :
Approximately 2.5 Kg (including Package)


Dimension (Shipping Box) :
SA9007 (DX) : App. 350H x 260W x 180D mm
SA9008 (NX) : App. 430H x 260W x 220D mm
(Dimension and weight could change later.)


Pcs / carton : 6 pcs (Inner) / 12pcs (outer)
Packing : Closed Box
Release : May 2020


EAN Code : SA9003 (DX) 4 89705 788 907 0
SA9004 (NX) 4 89705 788 908 7
** SA9007 DX is Limited Edition

TM & © Screen Gems Inc.. ALL RIGHTS RESERVED.

© 2020 Star Ace Toys Limited. All Rights Reserved.