DF ALEX DELARGE 2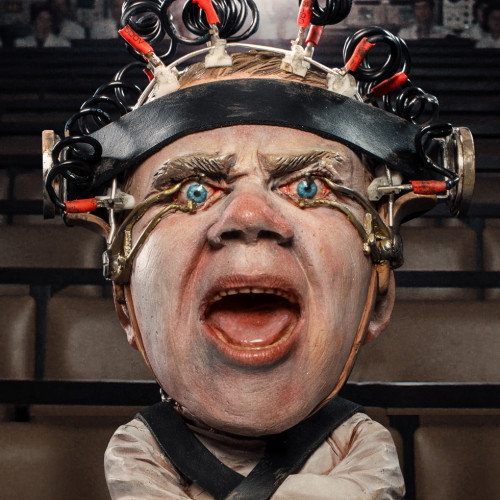 SPECIFICATION
Special products
- Delivery method : Registered air mail / EMS(+US$60)
- Product non-refundable
| | |
| --- | --- |
| PRODUCT CODE | SA6045 |
| PRODUCT NAME | DF ALEX DELARGE 2.0 |
| SCALE | 15CM TALL (HEIGHT) |
| SERIES | DEFO-REAL SERIES |
THE 15CM TALL DF ALEX DELARGE 2.0 STATUE SPECIALLY FEATURES:
SA6045 DF ALEX DELARGE 2.0 (LUDOVICO TECH VER.)
LICENSE (A CLOCKWORK ORANGE, 1971)

ALEX DELARGE 2.0
15CM STATUE (A CLOCKWORK ORANGE, 1971)

Star Ace continues its salute to the Stanley Kubrick classic, A Clockwork Orange with another Defo Real of juvenile delinquent Alex Delarge. This statue features Alex undergoing the tortuous "Ludovico Technique" to "cure" him of his violent tendencies. In this highly detailed sculpture Alex is strapped to a chair with his eyelids pinned back. He screams in agony as his beautiful Ludwig Van plays while he's forced to watch scenes of ultra-violence.

Hand sculpted by the artisans at Kaibutsuya Shop, each mini-statue is painted by skilled artisans. Made of PVC and mixed media, this piece stands 15cm tall and comes in an official art box.
PRODUCT NO:
SA6045 DF ALEX DELARGE 2.0 (LUDOVICO TECH VER.)
PRODUCT TYPE:
SA6045 DEFO-REAL SERIES STATUE, (NON-SCALE) 15CM TALL.
PRODUCT SIZE:
STAUTE : APPROXIMATELY L 80MM W 95MM H 150MM
PRODUCT WEIGHT:
APPROXIMATELY 0.90 KGS (INCLUDING PACKAGE)

DIMENSION (GIFT BOX)
APPROXIMATELY W 120M X L 170MM X H 170MM (DIMENSION AND WEIGHT COULD BE CHANGED LATER)
PCS/CARTON : 8 PCS (OUTER)
RELEAES DATE : Q2, 2021
**PROTOTYPE SHOWN, FINAL PRODUCT MAY BE SLIGHTLY DIFFERENT
**PRODUCT DETAILS COULD BE SUBJECTED TO CHANGE WITHOUT FURTHER NOTICE
A CLOCKWORK ORANGE and all related characters and element & © Warner Bros. Entertainment Inc. (WBEI). (s21). ALL RIGHTS RESERVED.

© 2021 Star Ace Toys Limited. All Rights Reserved.