Kraken (Deluxe version)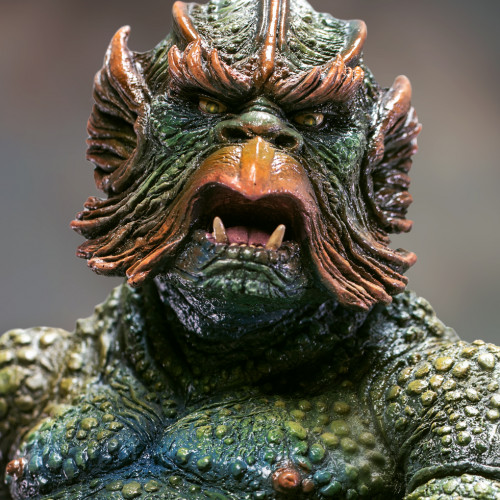 SPECIFICATION
| | |
| --- | --- |
| PRODUCT CODE | SA9031 / SA9032 |
| PRODUCT NAME | KRAKEN (DELUXE / NORMAL VER.) |
| SCALE | 35CM TALL (HEIGHT) |
| SERIES | SUPERVINYL SERIES |
THE 35CM TALL KRAKEN (RAY HARRYHAUSEN) SOFT VINYL STATUE SPECIALLY FEATURES:
SA9031 KRAKEN (DELUXE VERSION) / SA9032 KRAKEN (NORMAL VERSION) 35CM TALL, 54CM/64CM (DELUXE VER.) WIDE

LICENSE (RAY HARRYHAUSEN 100TH ANNIVERSARY)

KRAKEN
35CM SOFT VINYL STATUE (RAY HARRYHAUSEN)


The mighty Kraken is a giant and fearsome sea monster sent by the gods to destroy mortals that have defied them. Perhaps Ray Harryhausen's greatest achievement in stop-motion animation, the Kraken is a huge four-armed creature with a long tail and terrifying face.

The Super Vinyl statue of Ray Harryhausen's Kraken is the largest creation Star Ace has ever made. Standing 35cm tall and extending out a full 54 cm in length, this impressive monster will be an amazing display piece for any collection. Traditionally sculpted by the artisans of the famed creature shop of Kaibutsuya, the statue is made from soft vinyl and is hand-painted to bring out the details of the sculpt.

The deluxe version of the Kraken comes with a polyresin diorama base with sculpted ocean waves and a manacled princess waiting to be rescued. This extended version measures a full 64cm in length with the base.
PRODUCT TYPE:
SOFT VINYL STATUE (NON-SCALE) 35CM TALL
PRODUCT SIZE:
KRAKEN (DX) STAUTE : APPROXIMATELY L 640MM W 300MM H 350MM (DELUXE VERION):
KRAKEN (NX) STAUTE : APPROXIMATELY L 540MM W 300MM H 350MM (NORMAL VERION)
PRODUCT WEIGHT:
APPROXIMATELY 2.8 KGS (DX) / 2.0KGS (NX) (INCLUDING PACKAGE)

DIMENSION (GIFT BOX)
APPROXIMATELY W 500M X L 400MM X H 350MM (DIMENSION AND WEIGHT COULD BE CHANGED LATER)
PCS/CARTON : 1 PCS
RELEAES DATE : Q3, 2021

* SA9031 KRAKEN (DELUXE VERSION) IS LIMITED EDITION
**PROTOTYPE SHOWN, FINAL PRODUCT MAY BE SLIGHTLY DIFFERENT
**PRODUCT DETAILS COULD BE SUBJECTED TO CHANGE WITHOUT FURTHER NOTICE
Produced with the permission of The Ray and Diana Harryhausen Foundation (Charity Number SC001419). ALL RIGHTS RESERVED.

© 2021 Star Ace Toys Limited. All Rights Reserved.