Kali (Deluxe version)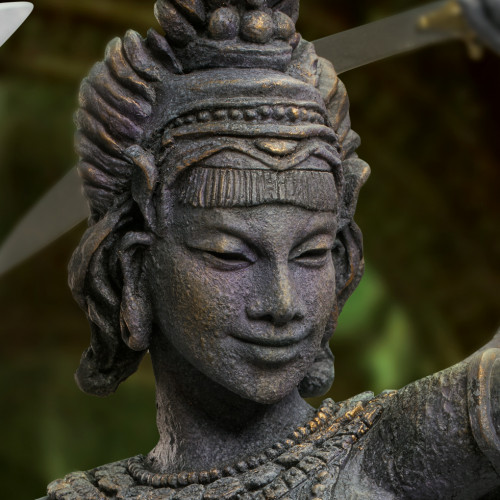 SPECIFICATION
| | |
| --- | --- |
| PRODUCT CODE | SA9033 / SA9034 |
| PRODUCT NAME | KALI (DELUXE / NORMAL VER.) |
| SCALE | 30CM TALL (HEIGHT) |
| SERIES | SUPERVINYL SERIES |
THE 30CM TALL TALOS (RAY HARRYHAUSEN) SOFT VINYL STATUE SPECIALLY FEATURES:
SA9033 KALI (DELUXE VERSION) / SA9034 KALI (NORMAL VERSION) 30CM TALL

LICENSE (RAY HARRYHAUSEN 100TH ANNIVERSARY)

KALI
30CM SOFT VINYL STATUE (RAY HARRYHAUSEN)


A statue of Kali, Goddess of Death, stands guard over countless treasure. Woe to any sailor who tries to steal from the horde guarded by this stone sentry. Her six arms all wield swords and can fight off multiple attackers. One of Ray Harryhausen's more ambitious stop-motion creations, Kali would move all her arms as she battles the adventurers.

Traditionally sculpted by the artisans of the famed creature shop of Kaibutsuya, this detailed Kali statue is made from soft vinyl and stands 30cm tall. Each piece is hand-painted to look like it is made of ancient stone. She is posed with all six swords ready to face-off against anyone who would desecrate her treasure horde.

The Deluxe version of this statue includes a polyresin display diorama base with the cave floor covered with golden treasure.
PRODUCT TYPE:
SOFT VINYL STATUE (NON-SCALE) 30CM TALL
PRODUCT SIZE:
KALI STAUTE : APPROXIMATELY L 230MM W 230MM H 300MM
PRODUCT WEIGHT:
APPROXIMATELY 2.6 KGS (DX) / 1.6KGS (NX) (INCLUDING PACKAGE)

DIMENSION (GIFT BOX)
APPROXIMATELY W 350M X L 260MM X H 250MM (DIMENSION AND WEIGHT COULD BE CHANGED LATER)
PCS/CARTON : 4 PCS
RELEAES DATE : Q4, 2021

* SA9033 KALI (DELUXE VERSION) IS LIMITED EDITION
**PROTOTYPE SHOWN, FINAL PRODUCT MAY BE SLIGHTLY DIFFERENT
**PRODUCT DETAILS COULD BE SUBJECTED TO CHANGE WITHOUT FURTHER NOTICE
Produced with the permission of The Ray and Diana Harryhausen Foundation (Charity Number SC001419). ALL RIGHTS RESERVED.

© 2021 Star Ace Toys Limited. All Rights Reserved.