TRICERATOPS (POLYRESIN VER.)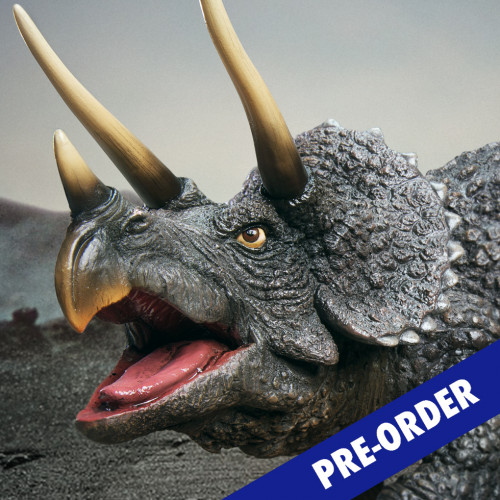 SPECIFICATION
| | |
| --- | --- |
| PRODUCT CODE | SA9035 |
| PRODUCT NAME | TRICERATOPS (POLYRESIN VER.) |
| SCALE | 40CM LONG WITH DIORAMA (HEIGHT) |
| SERIES | POLYRESIN SERIES |
THE 40CM LONG TRICERATOPS (ONE MILLION YEARS B.C.) POLYRESIN STATUE SPECIALLY FEATURES:
SA9035 40CM LONG POLYRESIN STATUE
LICENSE (ONE MILLION YEARS B.C., 1966)

TRICERATOPS
40CM LONG POLYRESIN STATUE (ONE MILLION YEARS B.C., 1966)

The classic fantasy film One Million Years BC featured dinosaurs and other creatures brought to life by the stop-motion genius of Ray Harryhausen.

Star Ace is bringing a new version of the Triceratops to fans, this time in polyresin. The Triceratops is 40cm long and stands 17cm tall. It is sculpted to exactly recreate the original Harryhausen stop-motion model, and features a detailed, hand painted color scheme to match.

It comes with a rocky terrain base and includes in-scale figures of Tumak and Loana. The base pairs with the base for the Ceratosaurus figure, creating one large diorama.

Created in partnership with the Ray and Diana Harryhausen Foundation and the 20th Century Fox.
PRODUCT TYPE:
POLYRESIN STATUE (NON-SCALE) 40CM LONG
PRODUCT SIZE:
TRICERATOPS STAUTE : APPROXIMATELY L 400MM W 170MM H 190MM
DIORAMA BASE : APPROXIMATELY L 250MM W 250MM H 130MM
PRODUCT WEIGHT:
APPROXIMATELY 7.0 KGS (INCLUDING PACKAGE)

DIMENSION (GIFT BOX)
APPROXIMATELY W 450M X L 280MM X H 330MM (DIMENSION AND WEIGHT COULD BE CHANGED LATER)
PCS/CARTON : 1 PCS
RELEAES DATE : Q4, 2021

* SA9035 (POLYRESIN VER.) IS LIMITED EDITION
**PROTOTYPE SHOWN, FINAL PRODUCT MAY BE SLIGHTLY DIFFERENT
**PRODUCT DETAILS COULD BE SUBJECTED TO CHANGE WITHOUT FURTHER NOTICE
ONE MILLION YEARS B.C. is a film of Twentieth Century Fox film Corporation & © 1966 and 2021. ALL RIGHTS RESERVED.

© 2021 Star Ace Toys Limited. All Rights Reserved.