Talos GIG (Deluxe version)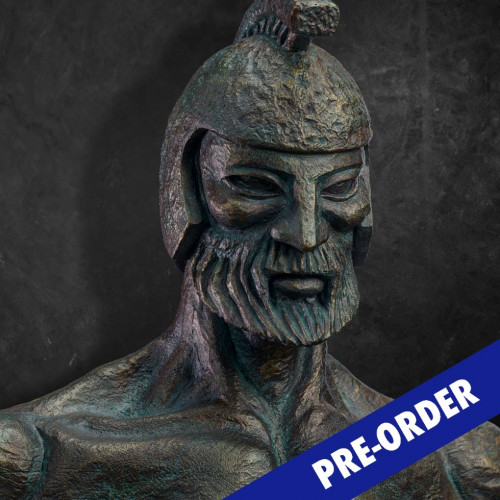 SPECIFICATION
| | |
| --- | --- |
| PRODUCT CODE | SA9038 |
| PRODUCT NAME | TALOS (GIG) (DELUXE VER.) |
| SCALE | 50CM TALL (HEIGHT) |
| SERIES | GIGANTIC SERIES |
THE 50CM TALL TALOS (GIGANTIC SERIES) (RAY HARRYHAUSEN) SOFT VINYL STATUE SPECIALLY FEATURES:
SA9038 TALOS (GIG) (DELUXE VERSION) 60CM TALL (DELUXE VER.)

LICENSE (RAY HARRYHAUSEN 100TH ANNIVERSARY)

TALOS
60CM SOFT VINYL STATUE (RAY HARRYHAUSEN)


Star Ace introduces their "Gigantic" line of Ray Harryhausen statues with the titanic Talos who stands 50cm (20") tall! The Greek hero Jason encountered the giant Bronze monster Talos when one of his crew stole from the treasure the giant guarded. This gigantic statue guarded a priceless treasure and when Sinbad's sailors stole from it, the statue came alive to retrieve it.

This "Gigantic" version of Talos is posed as the great titan was when first encountered by Sinbad. Traditionally sculpted by the artisans of the famed creature shop of Kaibutsuya, this detailed Talos statue is made from soft vinyl and stands 50cm tall (60cm with display base). Each piece is hand-painted to look like it has an ancient Bronze finish.

The Deluxe version of this statue includes the huge platform where the giant statue stood guarding the entrance to his treasure room.
PRODUCT TYPE:
SOFT VINYL STATUE (NON-SCALE) 50CM TALL
PRODUCT SIZE:
TALOS STATUE : APPROXIMATELY L 278MM W 106MM H 520MM
DIORAMA BASE : APPROXIMATELY L 280MM W 120MM H 13MM
PRODUCT WEIGHT:
APPROXIMATELY 4.6 KGS (DX) / 2.6KGS (NX) (INCLUDING PACKAGE)

DIMENSION (GIFT BOX)
APPROXIMATELY H 580M X W 320MM X D 150MM / BASE BOX : H 300 X W150 X 160 D MM (DIMENSION AND WEIGHT COULD BE CHANGED LATER)
PCS/CARTON : 1 PCS
RELEAES DATE : Q1, 2022

* SA9038 KRAKEN (DELUXE VERSION) IS LIMITED EDITION
**PROTOTYPE SHOWN, FINAL PRODUCT MAY BE SLIGHTLY DIFFERENT
**PRODUCT DETAILS COULD BE SUBJECTED TO CHANGE WITHOUT FURTHER NOTICE
Produced with the permission of The Ray and Diana Harryhausen Foundation (Charity Number SC001419). ALL RIGHTS RESERVED.

© 2021 Star Ace Toys Limited. All Rights Reserved.