Skeleton Army (RAY HARRYHAUSEN)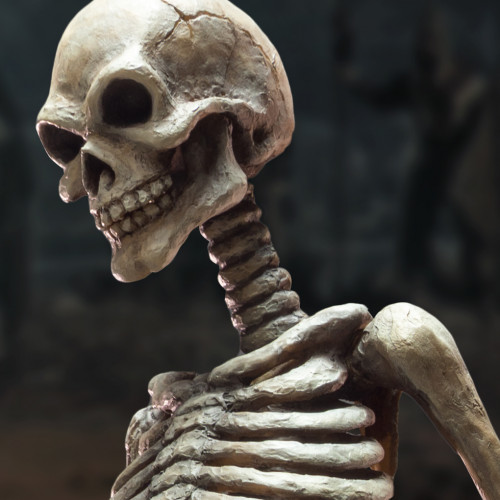 SPECIFICATION
| | |
| --- | --- |
| PRODUCT CODE | SA9051 / SA9052 |
| PRODUCT NAME | SKELETON ARMY (NX / DX) |
| SCALE | 32CM TALL WITH DIORAMA (HEIGHT) |
| SERIES | POLYRESIN SERIES |
THE 32CM TALL SKELETON ARMY (RAY HARRYHAUSEN) POLYRESIN STATUE SPECIALLY FEATURES:
SA9051 / SA9052 32CM TALL POLYRESIN (PU) STATUE
LICENSE (RAY HARRYHAUSEN)

SKELETON ARMY (CHILDREN OF THE HYDRA'S TEETH)
32CM POLYRESIN STATUE

Stop motion master, Ray Harryhausen, pitted the noble heroes against animated skeletons in several of his movies. Ray's skeletons provide a creepy, and sometimes funny villain that makes for a great action scene.

Star Ace has re-created Harryhausen's skeletons, known as "Children of the Hydra's teeth", as a 1/6 scale polyresin statue, armed with sword and shield, ready to take on any hero. The skeleton comes with a rocky terrain base with real grass effects. Get multiple statues to create your own skeleton army!

The Deluxe version of this statue includes a larger base with two more skeletons rising out of the ground, ready to do battle.
PRODUCT TYPE:
POLYRESIN (PU) STATUE (NON-SCALE) 32CM TALL
PRODUCT SIZE:
SKELETON ARMY (DX) STAUTE : APPROXIMATELY L 30MM W 130MM H 320MM
SKELETON ARMY (NX) STAUTE : APPROXIMATELY L 150MM W 100MM H 320MM
PRODUCT WEIGHT:
APPROXIMATELY 2.80 KGS (DELUXE VER.) / 1.60 KGS (NORMAL VER.) (INCLUDING PACKAGE)

DIMENSION (GIFT BOX)
APPROXIMATELY W 350M X L 260MM X H 250MM (DIMENSION AND WEIGHT COULD BE CHANGED LATER)
PCS/CARTON : 4 PCS
RELEAES DATE : Q3, 2022

* SA9052 (DELUXE VERSION) IS LIMITED EDITION
**PROTOTYPE SHOWN, FINAL PRODUCT MAY BE SLIGHTLY DIFFERENT
**PRODUCT DETAILS COULD BE SUBJECTED TO CHANGE WITHOUT FURTHER NOTICE
Produced with the permission of The Ray and Diana Harryhausen Foundation (Charity Number SC001419). ALL RIGHTS RESERVED.

© 2022 Star Ace Toys Limited. All Rights Reserved.