MINATON (GIG)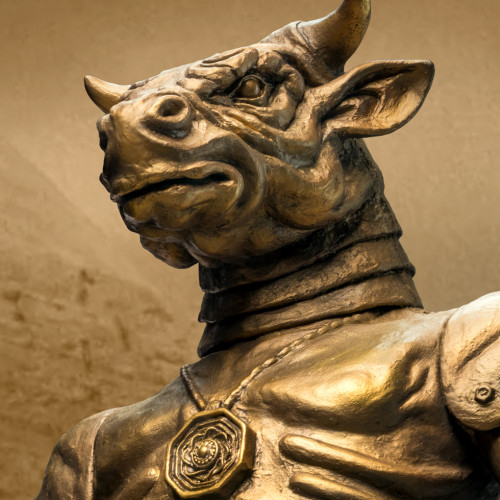 SPECIFICATION
| | |
| --- | --- |
| PRODUCT CODE | SA9053/SA9054/SA9055/SA9056 |
| PRODUCT NAME | MINATON (NORMAL /SPECIAL /DELUXE VER./HEART) |
| SCALE | 50CM TALL (HEIGHT) |
| SERIES | 50CM POLYRESIN SERIES |
THE 50CM TALL MINATON (GIGANTIC SERIES) (RAY HARRYHAUSEN) POLYRSEIN STATUE SPECIALLY FEATURES:
SA9053 MINATON (NORMAL VERSION) / SA9054 MINATON (SPECIAL VERSION) / SA9055 MINATON (DELUXE VERSION) / SA9056 MINATON'S HEART, 50CM TALL

LICENSE (RAY HARRYHAUSEN 100TH ANNIVERSARY)

MINATON
50CM POLYRESIN STATUE (RAY HARRYHAUSEN)


The servant of an evil sorceress, the Minaton is a great bronze automaton that exists only to serve the will of its master. Powered by a clockwork heart, this large metal Minotaur has the strength of many men and towers over normal humans.

Created by stop-motion genius Ray Harryhausen, this detailed replica of the animation puppet is 50cm (20") tall and carries his huge spear held in his right hand. Traditionally sculpted by the artisans of the famed creature shop of Kaibutsuya, this detailed Minaton statue is made from polyresin and stands 50cm tall. Each piece is hand-painted to look like it has a Bronze finish.

The Special version of this statue includes the statue and a framed 10cm replica of the Minaton as a companion piece. The Deluxe version of the statue includes a 1:1 scale prop replica of the Minaton heart with battery operated moving parts.
PRODUCT TYPE:
POLYRESIN STATUE (NON-SCALE) 50CM TALLPRODUCT TYPE:


PRODUCT NAME :
SA9053 50CM MINATON STATUE ONLY
SA9054 50CM MINATON STATUE + 6" SCUPTURE PHOTO FRAME
SA9055 50CM MINATON STATUE + 1:1 REPLICA GEAR HEART
SA9056 6" SCULPTURE PHOTO FRAME ONLY
SA9053F MINATON 1:1 REPLICA GEAR HEART
PRODUCT SIZE:
MINATON STATUE : APPROXIMATELY L 260MM W 180MM H 520MM
GEAR HEART : APPROXIMATELY L 150MM W 150MM H 130MM
PRODUCT WEIGHT:
APPROXIMATELY 6.0 KGS (NX) / 6.8 KGS (SX) / 7.5 KGS (DX) / 1.5 KGS (HEART) / 1.0 KG (FRAME) (INCLUDING PACKAGE)

DIMENSION (GIFT BOX)
APPROXIMATELY H 600M X W 320MM X D 150MM / HEART BOX : H 480 X W320 X 150 D MM (DIMENSION AND WEIGHT COULD BE CHANGED LATER)
PCS/CARTON : 1 PCS
RELEAES DATE : Q3, 2022

* SA9055 MINATON (DELUXE VERSION) IS LIMITED EDITION
**PROTOTYPE SHOWN, FINAL PRODUCT MAY BE SLIGHTLY DIFFERENT
**PRODUCT DETAILS COULD BE SUBJECTED TO CHANGE WITHOUT FURTHER NOTICE
Produced with the permission of The Ray and Diana Harryhausen Foundation (Charity Number SC001419). ALL RIGHTS RESERVED.

© 2022 Star Ace Toys Limited. All Rights Reserved.