Centaur (Deluxe version)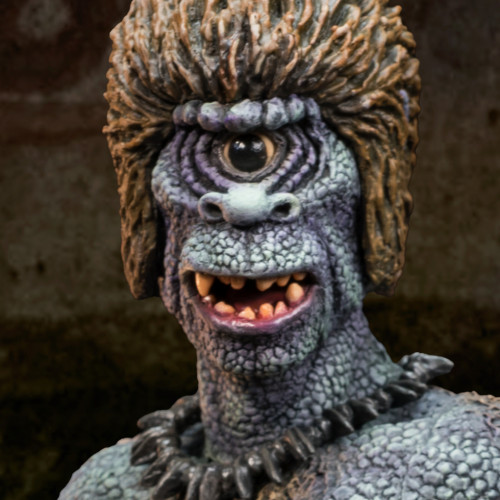 SPECIFICATION
| | |
| --- | --- |
| PRODUCT CODE | SA9057 / SA9058 |
| PRODUCT NAME | CENTAUR (NORMAL / DELUXE VER.) |
| SCALE | 32CM TALL (HEIGHT) |
| SERIES | SUPERVINYL SERIES |
THE 32CM TALL CENTAUR (RAY HARRYHAUSEN) SOFT VINYL STATUE SPECIALLY FEATURES:
SA9057 CENTAUR (NORMAL VERSION) / SA9058 CENTAUR (DELUXE VERSION) 30CM TALL

LICENSE (RAY HARRYHAUSEN 100TH ANNIVERSARY)

CENTAUR
30CM SOFT VINYL STATUE (RAY HARRYHAUSEN)


Ray Harryhausen created the one-eyed centaur to be a menacing monster, his giant club at the ready to take on heroes and other dangerous creatures.

Star Ace has recreated the Harryhausen puppet as a 33cm tall soft vinyl statue, posed in mid-battle. Sculpted by the renowned artisans at Kaibutsuya, each piece is meticulously hand painted. His single eye can be rotated, and his jaw is articulated for different display options.

The Deluxe version comes with a polyresin diorama base depicting the floor of the Centaur's cave.
PRODUCT TYPE:
SOFT VINYL STATUE (NON-SCALE) 30CM TALL
PRODUCT SIZE:
CENTAUR STAUTE : APPROXIMATELY L 260MM W 100MM H 320MM / DIORAMA BASE (DX) : APPROXIMATELY L 295MM W 200MM H 100MM
PRODUCT WEIGHT:
APPROXIMATELY 1.5 KGS (NX) / 2.8KGS (DX) (INCLUDING PACKAGE)

DIMENSION (GIFT BOX)
APPROXIMATELY W 330M X L 280MM X H 210MM (DIMENSION AND WEIGHT COULD BE CHANGED LATER)
PCS/CARTON : 6 PCS
RELEAES DATE : Q4, 2022

* SA9058 CENTAUR (DELUXE VERSION) IS LIMITED EDITION
**PROTOTYPE SHOWN, FINAL PRODUCT MAY BE SLIGHTLY DIFFERENT
**PRODUCT DETAILS COULD BE SUBJECTED TO CHANGE WITHOUT FURTHER NOTICE
Produced with the permission of The Ray and Diana Harryhausen Foundation (Charity Number SC001419). ALL RIGHTS RESERVED.

© 2022 Star Ace Toys Limited. All Rights Reserved.