VAMPIRELLA 2.0 (Jose Gonzalez Ed.)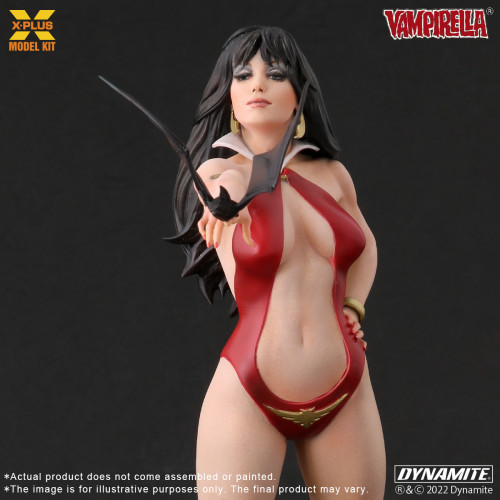 SPECIFICATION
| | |
| --- | --- |
| PRODUCT CODE | 411-2000088T |
| PRODUCT NAME | VAMPIRELLA 2.0 (JOSE GONZALEZ EDITION) |
| SCALE | 23CM TALL (HEIGHT) |
| SERIES | 1/8 PLASTIC MODEL KIT SERIES |
Be enthralled by Vampirella's commanding gaze in this finely detailed model based on José González's work.
First designed by José González in 1969 and later in September 1972's Super Special Issue, one of the many collected annuals of Vampirella, the work also marked the introduction of Carol de Haro as the real life model for Vampirella, appearing on covers and in comic strips throughout the 70's.
Now, taking the striking image that José González is best known for, X PLUS has created the pose in immaculate detail, from the individual strands of hair and subtle musculature, to the signature vampire bat perched atop Vampirella's outstretched, delicate hand.
As a welcome embellishment, Vampirella has an entirely new, but particularly thematic base to stand upon. A mound of bones and skulls rest at her feet. Upon closer inspection, fans may notice that these aren't human skulls, but ones belonging to fellow vampires, with the telltale hint of fangs on each.
PRODUCT TYPE:
UNPAINTED, UNASSEMBLED, PLASTIC VINYL MODEL KIT (1/8 SCALE) 23CM TALL
PRODUCT SIZE:
VAMPIREALLA STAUTE : APPROXIMATELY L 23CM TALL (AFTER PAINTED AND ASSEMBLED)
PRODUCT WEIGHT:
APPROXIMATELY TBA KGS (INCLUDING PACKAGE)

DIMENSION (GIFT BOX)
APPROXIMATELY W 400M X L 310MM X H 230MM (DIMENSION AND WEIGHT COULD BE CHANGED LATER)
PCS/CARTON : 12 PCS
RELEAES DATE : Q1, 2023
Remarks : Above prices included shipping cost **

**PROTOTYPE SHOWN, FINAL PRODUCT MAY BE SLIGHTLY DIFFERENT

**PRODUCT DETAILS COULD BE SUBJECTED TO CHANGE WITHOUT FURTHER NOTICE
®&© 2022 Dynamite. ALL RIGHTS RESERVED.

*** Bulk Purchase will be availble for quotation***

© 2022 X-PLUS / Star Ace Toys Limited. All Rights Reserved.