Kraken Bust (Polyresin)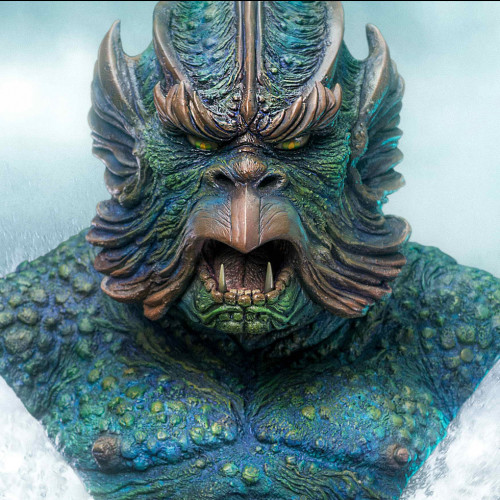 SPECIFICATION
| | |
| --- | --- |
| PRODUCT CODE | SA7001 |
| PRODUCT NAME | KRAKEN BUST (POLYRSIN) |
| SCALE | 45CM TALL (HEIGHT) |
| SERIES | POLYRESIN BUST SERIES |
THE 45CM TALL KRAKEN BUST (RAY HARRYHAUSEN) POLYRESIN BUST STATUE SPECIALLY FEATURES:
SA7001 KRAKEN BUST 45CM TALL, 37CM WIDE

LICENSE (RAY HARRYHAUSEN 100TH ANNIVERSARY)

KRAKEN BUST
45CM POLYRESIN BUST STATUE (RAY HARRYHAUSEN)


The mighty Kraken is a giant and fearsome sea monster sent by the gods to destroy mortals that have defied them. This is the first bust in the Ray Harryhausen line from Star Ace and stands an impressive 45 cm tall.

Based on the large-scale filming model used for shooting close-ups, this terrifying beast of a bust has an authentic likeness and is hand painted to bring out the detail. Made of Polyresin it stands on a display base decorated with the stylized waves of the sea from which the monster rises. An informative plaque adorns the base.

Shipping in Q1 2023, this is your favorite Ray Harryahusen items that you've been waiting for!
PRODUCT TYPE:
POLYRESIN STATUE (NON-SCALE) 45CM TALL
PRODUCT SIZE:
KRAKEN BUST STAUTE : APPROXIMATELY L 370MM W 350MM H 450MM
PRODUCT WEIGHT:
APPROXIMATELY 9.8 KGS (INCLUDING PACKAGE)

DIMENSION (GIFT BOX)
APPROXIMATELY W 500M X L 400MM X H 600MM (DIMENSION AND WEIGHT COULD BE CHANGED LATER)
PCS/CARTON : 1 PCS
RELEAES DATE : Q1, 2023

* SA7001 KRAKEN BUST IS LIMITED EDITION OF WORLDWIDE 500 PCS
**PROTOTYPE SHOWN, FINAL PRODUCT MAY BE SLIGHTLY DIFFERENT
**PRODUCT DETAILS COULD BE SUBJECTED TO CHANGE WITHOUT FURTHER NOTICE
Produced with the permission of The Ray and Diana Harryhausen Foundation (Charity Number SC001419). ALL RIGHTS RESERVED.

© 2022 Star Ace Toys Limited. All Rights Reserved.