Rocky Balboa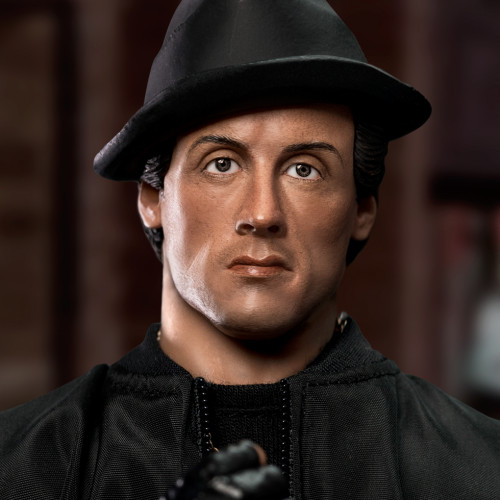 SPECIFICATION
| | |
| --- | --- |
| PRODUCT CODE | SA0117 / SA0118 |
| PRODUCT NAME | ROCKY BALBOA (DELUXE/NORMAL VER.) |
| SCALE | 1/6 SCALE (APPROX. 30CM HEIGHT) |
| SERIES | MY FAVOURITE MOVIE SERIES |
In celebration of the 45th Anniversary of the debut of the Academy Award winning film series, "Rocky," Star Ace is proud to announce the first collectible figure featuring Sylvester Stallone from Rocky II.
Sylvester Stallone created the character of down-and-out amateur boxer Rocky Balboa in 1976 and starred in the film Rocky which shot him to stardom. The movie won multiple Academy Awards and spawned a series of films. Stallone also wrote and starred in Rocky II and this 1/6 scale collectible figure is based on the look from that film.
The head sculpt is an authentic likeness to Sylvester Stallone as Rocky and has a moveable eyes feature. It comes with a removeable hat and alternate hair piece so he can be displayed with or without the hat. He uses a 30cm custom seamless body designed specifically for this character. He wears Rocky's street clothes with black jacket, jeans and t-shirt. It also includes a neck chain with cross, a wristband and watch.
The deluxe version of Rocky from Rocky II includes his dog Bupkis with 2 interchangeable t-shirts and a stone steps display diorama base. Along with other 1/6 fully-posable figures from the Rocky movies, Star Ace has some special items coming that we are excited to share with you..
THE 1/6TH SCALE COLLECTIBLE FIGURE "ROCKY BALBOA" SPECIALLY FEATURES:
- 1/6TH SCALE APPROXIMATELY 30 CM TALL
- 1/6 SCALE SEAMLESS BODY WITH OVER 30 POINTS OF ARTICULATIONS
- NEWLY SCULPTED, FULL REALIZED AUTHENTIC LIKENESS OF SYLVESTER STALLONE AS ROCKY BALBOA IN THE MOVIE "ROCKY II (1979)" WITH ACCURATE FACIAL EXPRESSION AND DETAILED SKIN TEXTURE
- EACH PIECE OF HEAD SCULPT IS SPECIALLY HAND-PAINTED
SA0118 (NORMAL VERSION) INCLUDES THE FOLLOWINGS:
1. HEADS:
- ONE (1) ROCKY BALBOA WITH SERIOUS FACIAL EXPRESSION WITH MOVEABLE EYES
2. HANDS : FIVE (5) PIECES OF INTERCHANGEABLE HANDS INCLUDING:
- ONE (1) PAIR OF OPEN HANDS
- ONE (1) PAIR OF FIST HANDS
- ONE (1) RIGHT HAND FOR GESTURE POSE
3. COSTUME:
- ONE (1) BLACK T-SHIRT
- ONE (1) ADDIITONAL RED T-SHIRT (TO SWITCH OUT)
- ONE (1) PAIR OF BLACK TROUSERS
- ONE (1) BLACK JACKET WITH TIGER DECORATION
- ONE (1) PAIR OF BOOTS
4. ACCESSORIES:
- ONE (1) BLACK HAT
- ONE (1) GOLD WATCH
- ONE (1) NECKLACE WITH CROSS
- ONE (1) WRISTBAND
- ONE (1) ROCKY BALBOA'S INTERCHANGEABLE HAT WITH HAIR PART


5. FIGURE STAND
(SA0117) DELUXE VERSION INCLUDES THE FOLLOWINGS:
- ALL SA0118 (NORMAL VERSIN) ACCESSORIES PLUS THE FOLLOWING ADDITIONAL PARTS:
- ONE (1) LEFT HAND FOR HOLDING THE ROPE
- ONE (1) DOG (BUPKIS) AND WITH T-SHIRT
- ONE (1) DOG COLLAR
- ONE (1) DIORAMA DISPLAY BASE WITH STAIRS FOR DISPLAY


RELEASE DATE: Q1, 2023
**PROTOTYPE SHOWN, FINAL PRODUCT MAY BE SLIGHTLY DIFFERENT
**PRODUCT DETAILS COULD BE SUBJECTED TO CHANGE WITHOUT FURTHER NOTICE
ROCKY II TM & © 1979 - 2022 METRO-GOLDWYN-MASTER STUDIOS INC. All Rights Reserved.

© 2022 Star Ace Toys Limited. All Rights Reserved.