Homunculus (Deluxe version)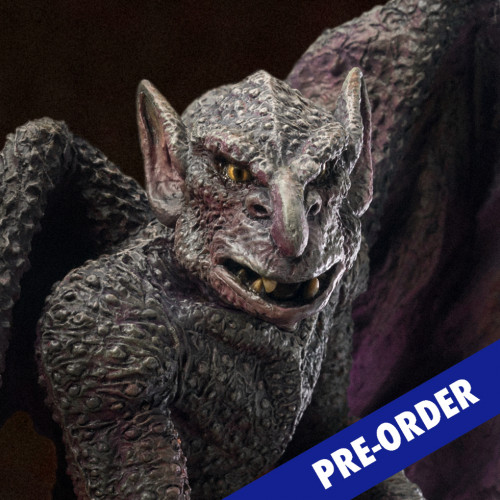 SPECIFICATION
| | |
| --- | --- |
| PRODUCT CODE | SA9061 / SA9062 |
| PRODUCT NAME | HOMUNCULUS (NORMAL / DELUXE VER.) |
| SCALE | 32CM TALL (HEIGHT) |
| SERIES | POLYRESIN SERIES |
THE 32CM TALL HOMUNCULUS (RAY HARRYHAUSEN) POLYRESIN STATUE SPECIALLY FEATURES:
SA9061 HOMUNCULUS (NORMAL VERSION) / SA9062 HOMUNCULUS (DELUXE VERSION) 30CM TALL

LICENSE (RAY HARRYHAUSEN 100TH ANNIVERSARY)

HOMUNCULUS
32CM POLYRESIN STATUE (RAY HARRYHAUSEN)


The Homunculus is a small creature created by an evil sorcerer to do his bidding. It's vaguely human shaped with batlike wings and a gargoyle face. The tiny demon acts as a spy for the villain, reporting on the hero's actions and trying to thwart them at every turn.

Star Ace has recreated the Homunculus that Ray Harryhausen brought to the screen. Sculpted by the artisans at Kaibutsuya, this polyresin statue is approximately 30cm tall with a wingspan of 32cm.

The Deluxe version of the statue comes with a polyresin diorama base featuring the magic golden amulet with faux rubies.
PRODUCT TYPE:
POLYRSIN STATUE (NON-SCALE) 32CM TALL
PRODUCT SIZE:
HOMUNCULUS STAUTE : APPROXIMATELY L 280MM W 320MM H 300MM /
DIORAMA BASE (DX) : APPROXIMATELY L 215MM W 230MM H 30MM
PRODUCT WEIGHT:
APPROXIMATELY 2.5 KGS (NX) / 3.5KGS (DX) (INCLUDING PACKAGE)

DIMENSION (GIFT BOX)
APPROXIMATELY W 330M X L 280MM X H 210MM (DIMENSION AND WEIGHT COULD BE CHANGED LATER)
PCS/CARTON : 2 PCS
RELEAES DATE : Q1, 2023

* SA9062 HOMUNCULUS (DELUXE VERSION) IS LIMITED EDITION
**PROTOTYPE SHOWN, FINAL PRODUCT MAY BE SLIGHTLY DIFFERENT
**PRODUCT DETAILS COULD BE SUBJECTED TO CHANGE WITHOUT FURTHER NOTICE
Produced with the permission of The Ray and Diana Harryhausen Foundation (Charity Number SC001419). ALL RIGHTS RESERVED.

© 2022 Star Ace Toys Limited. All Rights Reserved.