Talos (Model Kit)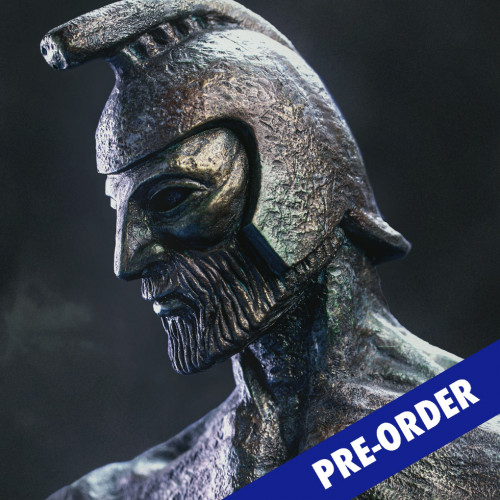 SPECIFICATION
| | |
| --- | --- |
| PRODUCT CODE | SA9029M |
| PRODUCT NAME | TALOS VINYL MODEL KIT |
| SCALE | 30CM SERIES |
| SERIES | MODEL KIT SERIES |
THE 30CM SERIES TALOS VINLY MODEL KIT SPECIALLY FEATURES:
SA9029M
LICENSE (RAY HARRYHAUSEN 100TH ANNIVERSARY)

TALOS
30CM SERIES SOFT VINYL MODEL KIT (Un-painted, Un-assembled kits)

The Star Ace Vinyl Model series has begun at last! In celebration of the 100th Anniversary of the master of movie stop motion animation, Ray Harryhausen, Star Ace is proud to release the Greek hero Jason encountered the giant Bronze monster Talos when one of his crew stole from the treasure the giant guarded. Chased by the 70-meter-tall giant, Jason's ship was a plucked from the water by Talos and the sailors had to jump for their lives.

Traditionally sculpted by the artisans of the famed creature shop of Kaibutsuya, this detailed Talos statue is made from soft vinyl and stands 32cm tall. Each piece is un-painted finish. He is posed with his sword in one hand and bending over to pull the ship out of the water, the boat is supported by a sculpted water splash.

This model kit will be limited edition on 400 pcs. Shipping in Feburary 2023, this is the TALOS you've been waiting for!.
PRODUCT TYPE:
SOFT VINYL MODEL KIT (NON-SCALE) 32CM SERIES
PRODUCT SIZE:
TALOS STAUTE (AFTER ASSEMBLED) : APPROXIMATELY L 250MM W 260MM H 300MM
PRODUCT WEIGHT:
APPROXIMATELY 1.2 KGS (INCLUDING PACKAGE)

DIMENSION (GIFT BOX)
APPROXIMATELY W 350M X L 230MM X H 100MM (DIMENSION AND WEIGHT COULD BE CHANGED LATER)
PCS/CARTON : 12 PCS
RELEAES DATE : Q1, 2023

**PROTOTYPE SHOWN, FINAL PRODUCT MAY BE SLIGHTLY DIFFERENT
**PRODUCT DETAILS COULD BE SUBJECTED TO CHANGE WITHOUT FURTHER NOTICE
Produced with the permission of The Ray and Diana Harryhausen Foundation (Charity Number SC001419). ALL RIGHTS RESERVED.

© 2022 Star Ace Toys Limited. All Rights Reserved.