ROCKY + BOXING BELL (SET)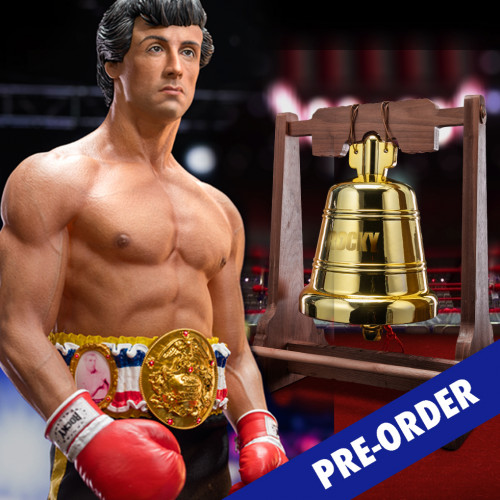 SPECIFICATION
| | |
| --- | --- |
| PRODUCT CODE | SA4009 + SA4013 (Combine set) |
| PRODUCT NAME | 1/4 ROCKY + BOXING BELL |
| SCALE | 1/4 & 1:1 SCALE |
| SERIES | MY ART GALLERY SERIES |
THE 1/4TH SCALE ROCKY BALBOA COLLECTIBLE POLYRESIN STATUE SPECIALLY FEATURES:
SA4009 ROCKY BALBOA 1/4 SCALE
LICENSE (ROCKY III, 1982)

1/4 MIXED MEDIA POLYRESIN STATUE

Sylvester Stallone created the character of Rocky Balboa over 45 years ago and made himself a superstar. In Rocky III the former down-and-out boxer is the Heavyweight Champion and must defend his title against his greatest challenge, Clubber Lang.

To celebrate the 45th Anniversary of Rocky, Star Ace brings the boxer to life in this ¼ scale mixed media/polyresin statue featuring his look from Rocky III. This mixed media statue features real fabric boxing shorts and a detailed and accurate likeness of Sylvester Stallone as Rocky with his leaner, more cut look from the third film in the series.

Star Ace brings James Dean to life in this ¼ scale polyresin statue which includes a diorama base placing the teenaged "rebel" standing on a street corner, smoking a cigarette. This statue features a detailed and accurate likeness of the actor and depicts him in the memorable outfit of red jacket, white t-shirt, jeans, and black boots.


The deluxe version of this statue includes a replica of the Championship Belt the figure can wear and a larger diorama base featuring the belt design. Both the wearable belt and the one on the base are fabric with electroplated medals studded with faux rubies.

THE 1:1 SCALE PROP REPLICA BOXING BELL WITH STAND SPECIALLY FEATURES:
SA4011 BOXING BELL (1:1 SCALE PROP REPLICA)
LICENSE (ROCKY III, 1982)

1/1 SCALE PROP REPLICA BELL

With the 45th Anniversary of Rocky Star Ace presents this unique 1:1 scale collectible -the ringside bell from the movie Rocky. As seen during the classic face-off between Rocky and Apollo Creed, this authentic full-scale replica is made of a copper alloy and is mounted in a full-size wooden stand that stands 43cm tall.

When struck with the accompanying mallet or rung by pulling the rope attached to the clapper, the bell rings out with an accurate clang that sounds like the fight is ready to begin. The bell is an impressive 30cm and weighs 4.5kg, giving it the authentic heft necessary for a realistic sound. It is engraved with the Rocky film logo on the bell.
PRODUCT NO.:
SA4011
PRODUCT TYPE:
FULL SCALE, (1:1 SCALE) PROP REPLICA REAL COPPER MATERIALS
PRODUCT SIZE:
BOXING BELL : APPROXIMATELY H 300MM W 180 MM
STAND BASE : APPROXIMATELY H 430MM W 230MM
PRODUCT WEIGHT:
APPROXIMATELY 4.5 KGS (INCLUDING PACKAGE)

DIMENSION (SHIPPING BOX)
APPROXIMATELY W 400MM X L 610MM X H 360MM (DIMENSION AND WEIGHT COULD BE CHANGED LATER)
RELEAES DATE : Q1-Q2, 2023

SA4011 IS A LIMITED EDITION WORLDWIDE
**PROTOTYPE SHOWN, FINAL PRODUCT MAY BE SLIGHTLY DIFFERENT
**PRODUCT DETAILS COULD BE SUBJECTED TO CHANGE WITHOUT FURTHER NOTICE
ROCKY III AND TM & 1982-2022 METRO-GOLDWYN MASTER STUDIOS INC. ALL RIGHTS RESERVED.

© 2022 Star Ace Toys Limited. All Rights Reserved.