Mighty Joe Young Color / Mono (Normal /Deluxe ver.)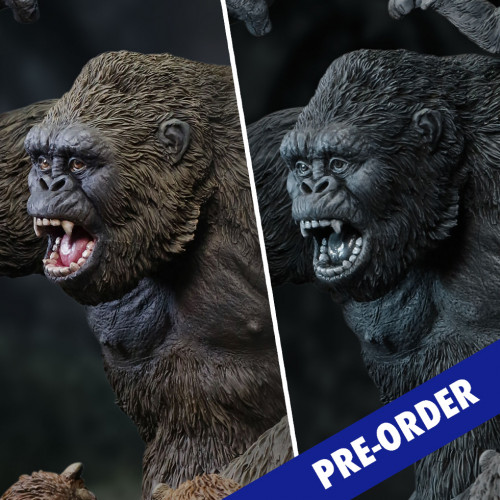 SPECIFICATION
| | |
| --- | --- |
| PRODUCT CODE | SA9068 / SA9069 / SA9076 / SA9077 |
| PRODUCT NAME | MIGHTY JOE YOUNG COLOR / MONO (NORMAL/DELUXE VER.) |
| SCALE | 34CM TALL (HEIGHT) |
| SERIES | SUPERVINYL SERIES |
THE 34CM TALL MIGHTY JOE YOUNG (RAY HARRYHAUSEN) SOFT VINYL STATUE SPECIALLY FEATURES:
SA9068 MIGHTY JOE YOUNG (COLOR NORMAL VERSION) / SA9069 MIGHTY JOE YOUNG (COLOR DELUXE VERSION)/ SA9076 MIGHTY JOE YOUNG (MONO NORMAL VERSION) / SA9077 MIGHTY JOE YOUNG (MONO DELUXE VERSION) 34CM TALL

LICENSE (RAY HARRYHAUSEN 100TH ANNIVERSARY)

MIGHTY JOE YOUNG (COLOR / MONOTONE)
34CM SOFT VINYL STATUE (RAY HARRYHAUSEN)


Ray Harryhausen got his start as an apprentice to the great stop-motion animator Willis O'Brien and the first major film young Ray worked on was Mighty Joe Young (1949). A 12-foot-tall giant gorilla is brought to Hollywood to help the young girl who raised him from a baby earn enough money to save her farm.

This new Star Ace statue features Joe as he fights for his life against wild lions. The soft vinyl statue is 34 cm tall and is sculpted by the renowned artisans at Kaibutsuya, each piece is meticulously hand painted.

The Deluxe version comes with a logo nameplate polyresin base that includes two more lions attacking Joe. The Deluxe version is a worldwide limited edition.

Both the Normal and Deluxe statues are available in two versions – a full color paint-up and one with a monochrome paint scheme, representing the way the scene originally looked in the film.
PRODUCT TYPE:
SOFT VINYL STATUE (NON-SCALE) 34CM TALL
PRODUCT SIZE:
MIGHTY JOE YOUNG STAUTE : APPROXIMATELY L 280MM W 190MM H 340MM
PRODUCT WEIGHT:
APPROXIMATELY 1.8 KGS (NX) / 3.2KGS (DX) (INCLUDING PACKAGE)

DIMENSION (GIFT BOX)
APPROXIMATELY W 370M X L 340MM X H 260MM (DIMENSION AND WEIGHT COULD BE CHANGED LATER)
PCS/CARTON : 4 PCS
RELEAES DATE : Q3, 2023

* SA9069 & SA9077 MIGHTY JOE YOUNG (COLOR DELUXE VERSION) AND (MONO DELUXE VERSEION) ARE LIMITED EDITION
**PROTOTYPE SHOWN, FINAL PRODUCT MAY BE SLIGHTLY DIFFERENT
**PRODUCT DETAILS COULD BE SUBJECTED TO CHANGE WITHOUT FURTHER NOTICE
Produced with the permission of The Ray and Diana Harryhausen Foundation (Charity Number SC001419). ALL RIGHTS RESERVED.

© 2023 Star Ace Toys Limited. All Rights Reserved.