Elasmotherium Rhino (Brown / Black)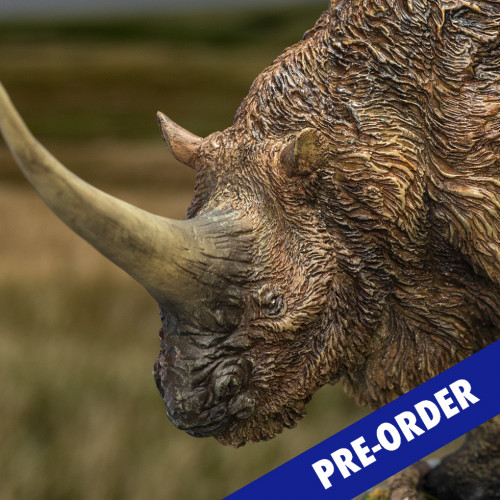 SPECIFICATION
| | |
| --- | --- |
| PRODUCT CODE | SA5019/SA5020 |
| PRODUCT NAME | ELASMOTHERIUM RHINO |
| SCALE | 28CM LONG SERIES |
| SERIES | WONDERS OF THE WILD SERIES |
THE 28CM ELASMOTHERIUM RHINO (BROWN COLOR/ BLACK COLOR) (SCULPTED BY SEAN COOPER) POLYRESIN STATUE SPECIALLY FEATURES:
SA5019/SA5020 ELASMOTHERIUM RHINO (BROWN/BLACK) 28CM LONG


SCULPTOR : SEAN COOPER

PAINTER : KAIBUTSUYA 怪物屋

ELASMOTHERIUM RHINO (BROWN COLOR / BLACK COLOR)
28CM POLYRESIN STATUE (PRE-HISTORIC CREATURES)

The Elasmotherium ranged the wide-open plains of Eurasia as recently as 29,000 years ago, making it contemporary with early humans. It was most likely made extinct by the change in climate during the most recent Ice Age. Elasmotherium was as large as a Wooly Mammoth, measuring from 4 to 5 meters in length and standing over 2 meters tall. It may have had a large horn up to 2 meters long used for defense and digging.

Star Ace presents a new statue sculpted by renowned animal sculptor, Sean Cooper as part of the Wonders of the Wild series. This polyresin prehistoric rhinoceros features two bird companions to help keep the larger animal free of bugs, just as birds do for modern rhinos. The Elasmotherium is attached to a base representing its natural habitat.

This polyresin statue is 28cm long and stands 16.5cm tall. The Elasmotherium will be available with either black or brown fur.
PRODUCT TYPE:
POLYRESIN STATUE (NON-SCALE) 28CM LONG
PRODUCT SIZE:
STATUE : APPROXIMATELY L 280MM W 140MM H 165MM
PRODUCT WEIGHT:
APPROXIMATELY 2.70 KGS (INCLUDING PACKAGE)

DIMENSION (GIFT BOX)
APPROXIMATELY W 420M X L 270MM X H 330MM (DIMENSION AND WEIGHT COULD BE CHANGED LATER)


PCS/CARTON : 2 PCS (INNER) / 4 PCS (OUTER)
RELEAES DATE : Q2, 2023
**PROTOTYPE SHOWN, FINAL PRODUCT MAY BE SLIGHTLY DIFFERENT
**PRODUCT DETAILS COULD BE SUBJECTED TO CHANGE WITHOUT FURTHER NOTICE

© 2022 Star Ace Toys Limited. All Rights Reserved.