MARIA METROPOLOS MODEL KIT (SILVER EDITION)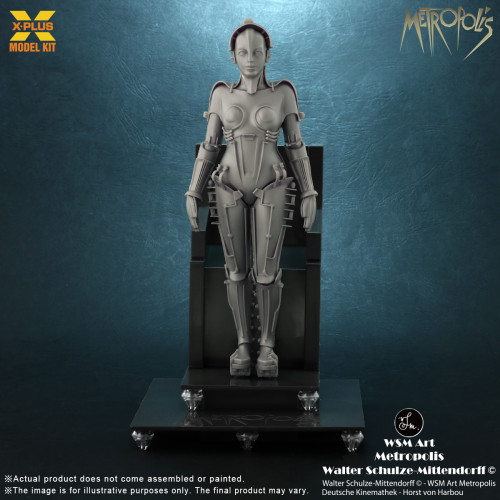 SPECIFICATION
| | |
| --- | --- |
| PRODUCT CODE | 411-2000138T |
| PRODUCT NAME | METROPOLIS SILVER SCREEN EDITION |
| SCALE | 26CM TALL (HEIGHT) |
| SERIES | 1/8 PLASTIC MODEL KIT SERIES |
"X PLUS's Maschinenmensch Plastic Model Kit: Mediating its way from your hands to your heart!
Fritz Lang's 1927 phenomenon, "Metropolis" returns in this intricately faithful reproduction of famed creative mind Walter Schulze-Mittendorf's Machine Man "Maria".
The "Maschinenmensch", the fictional robot from Fritz Lang's silent film Metropolis, was originally played by German actress Brigitte Helm, both as the titular robot "gynoid" and its human form. In the movie, the robot was created by the scientist Rotwang as an approximation of his former lover, Hel.
Maschinenmensch was one of the first, and perhaps most iconic fictional robots ever depicted in cinema, and went on to be one of the primary influences of robotic design in both feature film, television and technology.
The ⅛ scale model features Maria in her/its most iconic pose, as it stands with an air of awe and deepest fascination for Rotwang's greatest creation. This time with the parts molded in beige silver color reminiscent of the silver screen era.
As an added detail, avid fans of the classic silent film will appreciate the flavor text found at the back of the throne as well as "HEL" embossed in the iconic Metropolis typeface; a reminder of the original form of Rotwang's obsession.
NOTE: Every set comes with one display stand!
PRODUCT TYPE:
UNPAINTED, UNASSEMBLED, PLASTIC VINYL MODEL KIT (1/8 SCALE) 26CM TALL
PRODUCT SIZE:
METROPOLIS MASCHINENMENSCH STAUTE : APPROXIMATELY L 26CM TALL (AFTER PAINTED AND ASSEMBLED)
PRODUCT WEIGHT:
APPROXIMATELY TBA KGS (INCLUDING PACKAGE)

DIMENSION (GIFT BOX)
APPROXIMATELY W 400M X L 310MM X H 230MM (DIMENSION AND WEIGHT COULD BE CHANGED LATER)
PCS/CARTON : 12 PCS
RELEAES DATE : APRIL, 2023


**PROTOTYPE SHOWN, FINAL PRODUCT MAY BE SLIGHTLY DIFFERENT

**PRODUCT DETAILS COULD BE SUBJECTED TO CHANGE WITHOUT FURTHER NOTICE
Walter Schulze-Mittendorff © - WSM Art Metropolis
Deutsche Kinemathek - Horst von Harbou

© 2022 X-PLUS / Star Ace Toys Limited. All Rights Reserved.