Snake Woman (Naga) (Normal /Deluxe ver.)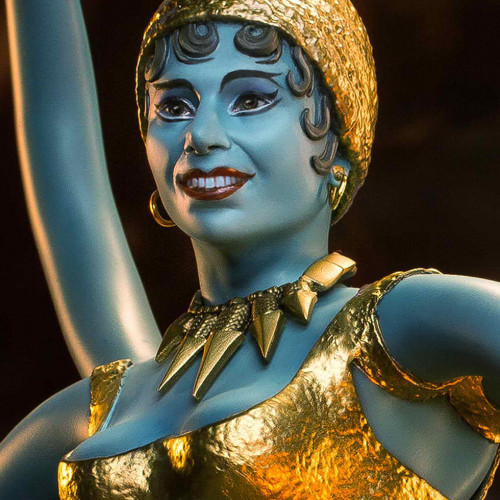 SPECIFICATION
| | |
| --- | --- |
| PRODUCT CODE | SA9070 / SA9071 |
| PRODUCT NAME | SNAKE WOMAN (NAGA) (NORMAL/DELUXE VER.) |
| SCALE | 30CM TALL (HEIGHT) |
| SERIES | SUPERVINYL SERIES |
THE 30CM TALL SNAKE WOMAN (NAGA) SOFT VINYL STATUE SPECIALLY FEATURES:
SA9070 SNAKE WOMAN (NORMAL VERSION) / SA9071 SNAKE WOMAN (DELUXE VERSION) 30CM TALL

LICENSE (RAY HARRYHAUSEN 100TH ANNIVERSARY)

SNAKE WOMAN (NAGA)
30CM SOFT VINYL STATUE WITH CARPET (RAY HARRYHAUSEN)


In mythology the Naga were beings that could be either human, serpent or something in between. Ray Harryhausen created this dancing Snake Woman and her fluid movements are a testament to his mastery of stop-motion puppetry.

Star Ace has recreated the Harryhausen puppet as a 30cm tall soft vinyl statue, posed in mid-dance with her four snake like arms extended in all directions. The lower snake portion of her body is detailed with realistic snakeskin texture, and she sits on a base that simulates the exotic carpet of the sultan's palace.

The Deluxe version also comes with a backdrop that represents the walls of the palace to complete the diorama.
PRODUCT TYPE:
SOFT VINYL STATUE (NON-SCALE) 30CM TALL
PRODUCT SIZE:
SNAKE WOMAN STAUTE : APPROXIMATELY L 330MM W 280MM H 210MM
PRODUCT WEIGHT:
APPROXIMATELY 1.4 KGS (NX) / 2.1KGS (DX) (INCLUDING PACKAGE)

DIMENSION (GIFT BOX)
APPROXIMATELY W 330M X L 280MM X H 210MM (DIMENSION AND WEIGHT COULD BE CHANGED LATER)
PCS/CARTON : 6 PCS
RELEAES DATE : Q2, 2023

* SA9071 SNAKE WOMAN (DELUXE VERSION) IS LIMITED EDITION
**PROTOTYPE SHOWN, FINAL PRODUCT MAY BE SLIGHTLY DIFFERENT
**PRODUCT DETAILS COULD BE SUBJECTED TO CHANGE WITHOUT FURTHER NOTICE
Produced with the permission of The Ray and Diana Harryhausen Foundation (Charity Number SC001419). ALL RIGHTS RESERVED.

© 2023 Star Ace Toys Limited. All Rights Reserved.