BELA LUGOSI 1:4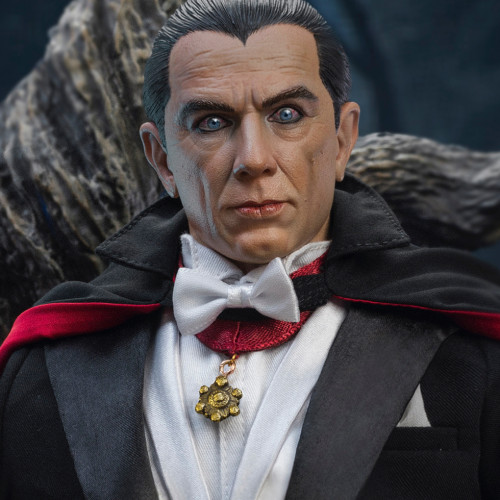 SPECIFICATION
| | |
| --- | --- |
| PRODUCT CODE | SA4012/SA4013 |
| PRODUCT NAME | BELA LUGOSI AS COUNT DRACULA 1/4 POLYRESIN STATUE |
| SCALE | 1/4 SCALE (APPROX. 60CM HEIGHT) |
| SERIES | MY ART GALLERY SERIES |
THE 1/4TH SCALE BELA LUGOSI AS COUNT DRACULA COLLECTIBLE POLYRESIN STATUE SPECIALLY FEATURES:
SA4012 / SA4013 BELA LUGOSI 1/4 (NORMAL VER./DELUXE VER.)
LICENSE (BELA LUGOSI)

BELA LUGOSI AS COUNT DRACULA
1/4 MIXED MEDIA POLYRESIN STATUE

Monsters rule the night! Bela Lugosi as Dracula is Star Ace's new superb ¼ scale statue with a real fabric costume and a diorama base.

Bela Lugosi created the iconic image of Dracula that has inspired fear and delight in horror fans for almost a century. This superb scale figure stands 48 cm tall and features Lugosi in a real fabric replica of his classic tuxedo with a red-lined cape fastened around his neck. His arms are outstretched with his hands ready to attack or beguile his unsuspecting victim. The elaborate diorama display has a gravestone and mysterious dead tree with the character's name in relief around the bottom of the base .

The deluxe version of this ¼ scale statue features a light-up function and an added bonus. The eyes look normal until illuminated blood red, simulating the blood-lust Dracula feels as he stalks a victim. The tree on the diorama base shines with the supernatural light coming up through the cracks in its trunk. The base also features a removeable and wearable ring featuring a detailed Dracula crest.
PRODUCT TYPE:
SUPERB SCALE STTAUE, (1/4 SCALE) MIXED MEDIA WITH COSTUME
PRODUCT SIZE:
STAUTE : APPROXIMATELY H 600MM W 280 MM D 300MM
DIORAMA BASE : APPROXIMATELY H 80MM W 240MM (INCLUDED IN THE STATUE SIZE)
PRODUCT WEIGHT:
APPROXIMATELY 11 KGS (INCLUDING PACKAGE)

DIMENSION (SHIPPING BOX)
APPROXIMATELY W 400MM X L 640MM X H 360MM (DIMENSION AND WEIGHT COULD BE CHANGED LATER)
RELEAES DATE : Q2, 2023

LIMITED EDITION
**PROTOTYPE SHOWN, FINAL PRODUCT MAY BE SLIGHTLY DIFFERENT
**PRODUCT DETAILS COULD BE SUBJECTED TO CHANGE WITHOUT FURTHER NOTICE
BELA LUGOSI TM AND BELA LUGOSI AS DRACULA TM & © 2023 LUGOSI LLC. ALL RIGHTS RESERVED.

© 2023 Star Ace Toys Limited. All Rights Reserved.