Woolly Mammoth 2.0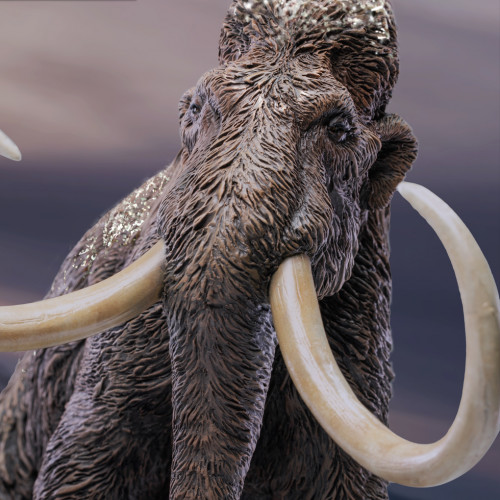 SPECIFICATION
| | |
| --- | --- |
| PRODUCT CODE | SA5017/SA5018 |
| PRODUCT NAME | WOOLLY MAMMOTH 2.0 |
| SCALE | 33CM LONG SERIES |
| SERIES | WONDERS OF THE WILD SERIES |
THE 32CM WOOLLY MAMMOTH 2.0 (SCULPTED BY SEAN COOPER) POLYRESIN STATUE SPECIALLY FEATURES:
SA5017/SA5018 WOOLLY MAMMOTH 2.0 (NX/DX) 33CM LONG


SCULPTOR : SEAN COOPER

PAINTER : KAIBUTSUYA 怪物屋

WOOLLY MAMMOTH 2.0
33CM POLYRESIN STATUE (PRE-HISTORIC CREATURES)

Star Ace has an all-new Woolly Mammoth statue as part of the Wonders of the Wild series. Sculpted by renowned animal sculptor, Sean Cooper, this polyresin mammoth statue features this prehistoric creature on a base representing her natural habitat.

The Woolly Mammoth or Mammuthus primigenius roamed much of the Northern Hemisphere as recently as 4,000 years ago. Standing approximately 3 meters tall and weighing over six tonnes, this elephant ancestor was an important resource for early humans.

This polyresin statue of the Mammoth is 33cm long and stands 22cm tall. She is depicted on a diorama base of a rocky outcropping. This all-new sculpt has been painted by the Japanese artisans at X-Plus.

The deluxe version of the statue (DX) also includes a baby mammoth standing alongside its mother.
PRODUCT TYPE:
POLYRESIN STATUE (NON-SCALE) 33CM LONG
PRODUCT SIZE:
STATUE : APPROXIMATELY L 330MM W 200MM H 220MM
PRODUCT WEIGHT:
APPROXIMATELY 3.0 KGS (INCLUDING PACKAGE)

DIMENSION (GIFT BOX)
APPROXIMATELY W 420M X L 270MM X H 330MM (DIMENSION AND WEIGHT COULD BE CHANGED LATER)


PCS/CARTON : 2 PCS (INNER) / 4 PCS (OUTER)
RELEAES DATE : LATE Q1, 2023
**PROTOTYPE SHOWN, FINAL PRODUCT MAY BE SLIGHTLY DIFFERENT
**PRODUCT DETAILS COULD BE SUBJECTED TO CHANGE WITHOUT FURTHER NOTICE

© 2022 Star Ace Toys Limited. All Rights Reserved.