Nautilus & Trilobites Frame & Fossil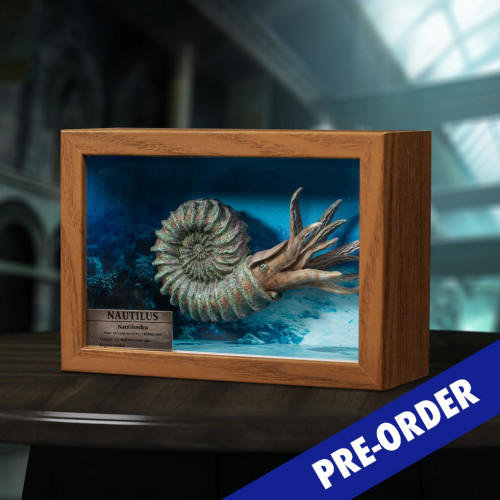 SPECIFICATION
| | |
| --- | --- |
| PRODUCT CODE | SA5021/SA5022/SA5023/SA5024 |
| PRODUCT NAME | NAUTILUS & TRILOBITES MINIATURE FRAME & FOSSIL 15cm POLYRESIN STATUE |
| SCALE | 15CM LONG |
| SERIES | WONDERS OF THE WILD SERIES |
THE 15CM NAUTILUS & TRILOBITES MINIATURE FRAME AND FOSSIL REPLICA (SCULPTED BY STAR ACE) POLYRESIN STATUE SPECIALLY FEATURES:
SA5021 - SA5024 NAUTILUS & TRILOBITES MINIATURE FRAME AND FOSSIL (NORMAL VER. / DELUXE VER.)


SCULPTOR : STAR ACE

PAINTER : KAIBUTSUYA 怪物屋 & YOSHIO MASATAKA

NAUTILUS & TRILOBITES MINIATURE FRAME & FOSSIL
15CM POLYRESIN STATUE (PRE-HISTORIC CREATURES)

Ammonites are an extinct group of marine animals in the Cephalopoda class. They are invertebrates and are more closely related to coleoids (squids, octopus, and cuttlefish) than they were to the modern chambered nautilus, even though they are closer in appearance to the latter. Ammonites first appeared in the oceans during the Devonian Period, some 400 million years ago. They died out around 65.5 million years ago along with the dinosaurs.

This full scale replica of the Nautilus is fixed in a frame with a prehistoric ocean background and depicts the creature partially outside its shell. Available as a Deluxe set with the Nautilus replica or separately, a fossil of three nautilus as they would be unearthed today is a separate display piece.

The trilobite is an extinct marine arthropod that lived over 500 million years ago during the Paleozoic Era. These creatures were one of the earliest complex organisms to evolve on Earth and have left behind a rich fossil record. The trilobite had a hard exoskeleton which protected it from predators and environmental hazards. Some species grew up to three feet in length. They lived in a variety of marine environments, from shallow tropical seas to deep ocean trenches.

This replica of a trilobite is mounted in a display frame and shows how it might have looked as a living creature in the prehistoric ocean. A fossil replica of two trilobites is available as part of the deluxe set with the framed trilobite or as a separate piece.

The Nautilus and Trilobite are also featured on the base of the Star Ace Dunkleosteus statue.
PRODUCT TYPE:
POLYRESIN STATUE (NON-SCALE) 15CM LONG / FOSSIL REPLICA : WALL HANGING OR TABLE TOP DISPLAY.
PRODUCT SIZE:
SPINOSAURUS (LAND VER.) STATUE : APPROXIMATELY L 320MM W 80MM H 170MM / FOSSIL REPLICA : APPROMIXATELY L 370MM W 200MM D 25MM
PRODUCT WEIGHT:
APPROXIMATELY 2.50 KGS (DELUXE VER.) / 1.80 KGS (FOSSIL REPLICAS) (INCLUDING PACKAGE)

DIMENSION (GIFT BOX)
APPROXIMATELY W 390M X L 280MM X H 250MM (DIMENSION AND WEIGHT COULD BE CHANGED LATER)


PCS/CARTON : 4 PCS (OUTER)
RELEAES DATE : Q3, 2023
**PROTOTYPE SHOWN, FINAL PRODUCT MAY BE SLIGHTLY DIFFERENT
**PRODUCT DETAILS COULD BE SUBJECTED TO CHANGE WITHOUT FURTHER NOTICE

© 2023 Star Ace Toys Limited. All Rights Reserved.