Dire Wolf / Smilodon & Dire Wolf Twin Pack Set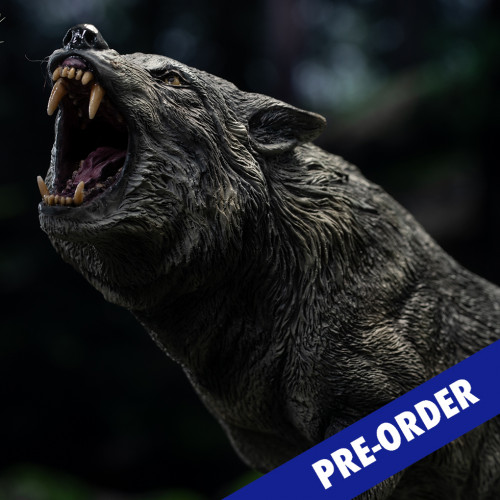 SPECIFICATION
| | |
| --- | --- |
| PRODUCT CODE | SA5036/SA5037 |
| PRODUCT NAME | Dire Wolf / Smilodon & Dire Wolf Twin Pack Set |
| SCALE | 28CM LONG |
| SERIES | WONDERS OF THE WILD SERIES |
DIRE WOLF
Introducing the extraordinary Dire Wolf Polyresin Statue, a captivating addition to the renowned Wonders of the Wild series by Star Ace. Immerse yourself in the ancient realms of the Americas and East Asia with this meticulously crafted masterpiece, paying homage to the formidable Dire Wolf that once roamed these lands over 10,000 years ago.
Sculpted by famed prehistoric creature expert Sean Cooper, the Dire Wolf Polyresin Statue stands as a testament to the artistry and attention to detail that sets Star Ace apart. This lifelike portrayal isn't just a statue – it's a glimpse into a bygone era, an opportunity to witness the majesty of the ancient world's apex predators.
Perched atop a finely crafted rock base and measuring a remarkable 28 cm in length, this exquisitely detailed Dire Wolf statue captures the essence of this powerful creature in breathtaking accuracy. From its robust build to its fierce countenance, every aspect has been expertly sculpted, showcasing the dedication to precision that Star Ace is known for.
The Dire Wolf, spanning over 1.8 meters in length and weighing a substantial 70 kg, comes to life in this exquisite piece, capturing the strength and elegance of this once-mighty predator. Whether you're a paleontology enthusiast, an aficionado of fine craftsmanship, or simply fascinated by the wonders of nature's past, this statue is an essential addition to your collection.
Designed to be displayed with his companion piece of the Smilodon, each individual statue can be purchased as a set for a special price.
Immerse yourself in history with the Dire Wolf Polyresin Statue from the Wonders of the Wild series by Star Ace. Display it proudly in your home, workspace, or personal sanctuary, and let the spirit of ancient Americas and East Asia live on. Rediscover an era of untamed beauty, strength, and the indomitable spirit of the Dire Wolf – a masterpiece that echoes the legacy of a true wilderness wanderer.
Product size : approx.. 28cm long
Product weight : approx. 2.5kg
Package size : approx. W365x D235 x H205mm
RELEASE DATE: Q4, 2023
**PROTOTYPE SHOWN, FINAL PRODUCT MAY BE SLIGHTLY DIFFERENT
**PRODUCT DETAILS SUBJECT TO CHANGE WITHOUT NOTICE
© 2023 Star Ace Toys Limited. All Rights Reserved.