Golden Amulet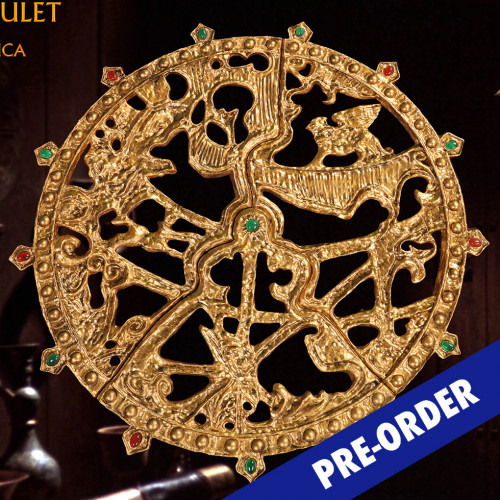 SPECIFICATION
| | |
| --- | --- |
| PRODUCT CODE | SA9067 |
| PRODUCT NAME | Golden Amulet |
| SCALE | 1/1 scale Prop Size Replica |
| SERIES | PROP SIZE REPLICA |
The three pieces of the amulet when joined together depict a map leading a way to the Fountain of Destiny on the lost continent of Lemuria. Only by confronting perilous monsters will the hero be able to collect all the pieces that will lead to eternal youth and untold riches.
This full-scale re-creation of the Golden Amulet designed by Ray Harryhausen is an authentic replica of the 1:1 film prop. It's made of plated metal alloy with real agates and measures 25 cm wide. It comes mounted in a frame with a descriptive plaque.
The original prop resides in the Ray Harryhausen museum and was the source for recreating this amazing replica.
Product size : 360 x 360 x 40mm
Product weight : approx. 0.8kg
Package size : 400x x 400 x 65mm
RELEASE DATE: Q4, 2023
**PROTOTYPE SHOWN, FINAL PRODUCT MAY BE SLIGHTLY DIFFERENT
**PRODUCT DETAILS SUBJECT TO CHANGE WITHOUT NOTICE
Produced with the permission of The Ray and Diana Harryhausen Foundation (Charity Number SC001419).
© 2023 Star Ace Toys Limited. All Rights Reserved.